^^

CLICK FOR PRICE RANGES ON DIFFERENT SHAPES AND TYPES

^^
---
BBQ Islands San Diego Style – Where No Island is Prefabricated
Good

,

Better

and Best
What's the Difference?
---
Good:
The vast majority of BBQ Grill Islands, Outdoor Kitchen and Combination Outdoor Entertainment Center manufacturers use stamped sheet steel studs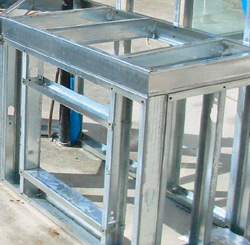 held together with self-tapping screws as a frame. You know; something like the "Erector Sets" you played with as a kid.
This method cuts cost because stamped sheet steel is lighter than the 16ga. Galvanized Structural Steel Tubing WE BUILD WITH, so it costs less to ship. The stamped sheet metal "Erector Set" types of frames are simply cheaper than real steel frames. Unfortunately the cost savings is rarely passed on to the customer. This is definitely NOT a BBQ Island San Diego Style!
The Real Cost to the Customer:
This "Erector Set" type manufacturing or BBQ Islands building technique generally results in sagging of the framework, (Screws work loose, sheet metal bends), which results in cracks on the counter top, stucco walls or stone veneer siding.
Better:
There are some manufacturers who use thin gauge steel tubing frames that are SPOT OR TACK welded together. While these temporary welds will hold or temporarily join two pieces of metal they do NOT make a fully welded joint. However, this method of BBQ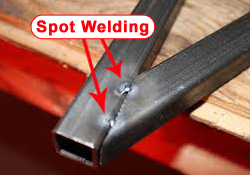 Island frame building does save considerable time in production, thereby lowering the production cost. But the results are the same.
The Real Cost to the Customer:
Once again a sagging of the framework, which in turn results in cracks on the counter top, stucco or stone veneer walls. (Caution: On either the Good or Better built frames, please refrain from standing on counter tops or allowing children to stand on them. The reasons should be obvious.
The Best – BBQ Island: Fully Welded Structural Steel Tubing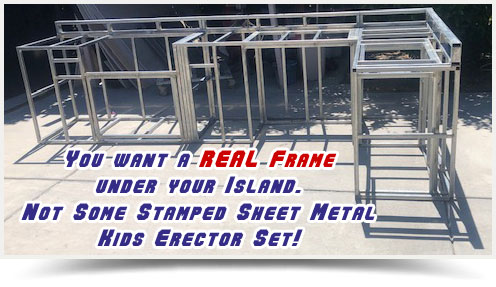 The complete process is what we call BBQ Island San Diego Style. First we come to your home for your In Home Consultation and discuss your design ideas and your outdoor entertainment needs. We will take pictures of your backyard and/or patio. Those pictures get handed off to our graphics designer who takes your design ideas and drops a totally realistic, virtually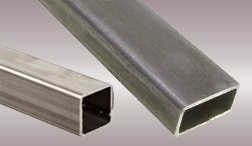 3-D digital mock-up of your new BBQ Island right into your backyard pictures and can be re-positioned so you can see your new BBQ Island design positioned perfectly in your backyard patio. Our virtual mock-up system makes changes quick and easy before any construction begins.
We can even add decor items into the 3-D rendering. Remember we're not just about BBQ Islands. We can help you with decor items like Bamboo Panels, Furniture, Poles, Fencing and Tiki Bars, Bar Stools, Umbrellas and Tiki Signs.
We use 1″ X 1″ and 1″ X 2″ 16 Gauge High Grade Galvanized Structural Steel Tubing  which is 50% Stronger than the few manufactures that still build real steel frames. The construction of your frame will have all joints fully welded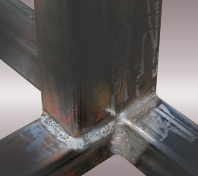 resulting in a frame that is like one solid piece of steel tubing.
Our Frames are the Strongest Built Frames in Southern California
With the high grade steel and fully welded joints, it ensures that your new barbecue island, outdoor kitchen or entertainment center won't sag, warp or fail structurally EVER – GUARANTEED AS LONG AS YOU OWN IT!
Our BBQ Islands San Diego Style Frames are Incredibly Strong, Built with Galvanized Structural Steel Tubing
The end result is a far superior product that will last you a lifetime. In fact we are so sure of the strength and durability of every unit we build, we give you a Written LIFETIME WARRANTY on all parts and workmanship of the Island itself. (Note: All components fall under their manufacturer's warranties.)
Let's Roll – Next we carefully load, tie down and secure your on our flatbed trailer for transport and of delivery your new Island or outdoor kitchen with all your components and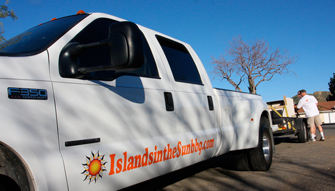 You'll be grillin in no time – Woo Hoo – Time to PAR TAY!
Islands In The Sun is for all your Backyard/Patio cooking needs. So don't forget you will have a wide choice of Stainless Barbeque Grills and accessories including Stainless Steel Refrigerators, Ice Chests, Side Burners, Doors, Drawers and more. Just about anything you can think of that will enhance your backyard entertainment area.
We can Custom Build Your Own Home Entertainment Resort Package Complete with a Hide-Away TV-Lift
The design choices are yours – Size, Shape, Colors, Finishes, Counter Tops and Components that make up your Dream BBQ Island or Outdoor Kitchen complete with a Bar, BBQ Grill, Side Burner, Sink, Refrigerator, Ice Chest, Wide Screen TV and built in Dolby Surround Sound Audio System. Call today for your In Home Consultation: (888) 556-8121