Kitchen covers protect outdoor kitchens are beautiful and give you a place to enjoy the outdoors and all of its splendors while still offering the comforts of home. These are wonderful additions to any backyard and deserve to be protected from the harsh elements. Protect your investment, and beautify your home with our custom outdoor kitchen covers. We will send our expert technicians to your home to design a perfect solution to protect your custom outdoor kitchen.
If you're a homeowner who has recently started designing your new kitchen or remodeling your existing one, you're probably aware of the number of details that go into the process. From choosing the kitchen layout to picking kitchen covers and cabinet design ideas, there are a number of decisions that need to be made.
One of the most important elements of designing your modular kitchen is planning your countertop layout. In order to create an efficient kitchen that lets you cook and move around easily, you'll need to take into account both your personal preferences, as well as the type of space you have available.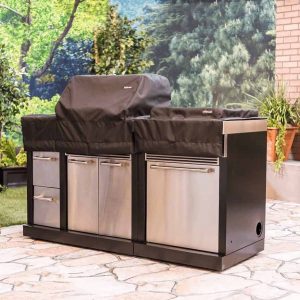 Outdoor kitchens need utmost protection from the changing weather. It should be prepared to face rain, snow, extreme heat, and cold. Owners should not be dependent at the thought of their appliances being made of durable stainless steel and other weatherproof materials. Remember, even the most expensive and thick stainless steel can wither under the constant beating of the rain without proper care.
The kitchen island, which is usually made of stone and wood, can survive for long periods of being exposed to heat, moisture, and wetness. But it can only do so for long. Eventually, the parts will start to crumble. Moisture will breed bacteria in the woods, which will slowly but surely cause it to deteriorate. Not to mention, your infested counter can be unsafe for food preparation and cooking.
To convince you why you need an outdoor kitchen cover, we have listed more benefits, factors to consider when getting your kitchen covers, and the best ones in the market.
Why should you invest in an outdoor kitchen cover?
An outdoor kitchen cover protects your outdoor kitchen, appliances, counters, tables, and chairs against dust, sun, rain, and snow.
It allows you not to exert effort and waste time cleaning the furniture or equipment. Just remove the cover and your kitchen is ready to use anytime.
It protects your equipment and kitchen from corroding and other substances, which in turn, extends the life of your investment.
There is no need for you to bring your equipment to the garage or basement during rainy or snowy days. This is important especially if the appliances or equipment are in-built. The outdoor kitchen covers are your best bet in protecting it all year round.
Building a full or partial roof overhead for your outdoor kitchen may be the way to go if you have money to spare. However, roof overhead may defeat the purpose of enjoying the beautiful weather outdoors.
Most people pick to have partial roof to protect only the vital areas of the outdoor kitchen but it can be too costly. An outdoor kitchen covers can provide the same kind of protection for a fraction of a price. And you will still be able to have fun under the sun during your barbecue sessions.
What to consider when buying an outdoor kitchen cover?
Size – Not all counters are the same. Because of this, it might be difficult for you to find an outdoor kitchen cover that covers everything. You might be able to find several kitchen covers of different sizes to cover the grill, the refrigerator, the oven, the sink, and the counters.
If you want to have a single cover that is able to fit everything, you may consider getting a custom outdoor kitchen cover. Given that, you can choose the color and material of your choice as well as options for fastenings. Prepare to shed more because it will be specially customized for you and may require more work.
Material – An outdoor kitchen cover may be made from Sunbrella Canvas, SeaMark Canvas, Marine Grade Vinyl, WeatherMax Canvas, Polyester Canvas, Tyvek, Nylon, and other specialty fabrics. These materials are made to last and are specially crafted to face adverse weather conditions.
To make sure that your cover won't be blown off, find one that comes with quality fasteners such as Velcro straps, Drawstring, Shock cord drawstring, or Elastic.
Maintenance – Since it will catch all the dust, dirt, and all other elements, your cover should also be maintained and kept clean. The best way to keep your outdoor kitchen covers looking good is to clean and scrub it with water and soap at least once a month. Sometimes, you can simply just hose it with water. A thorough cleaning may be required at least once a year through an industrial washing machine.
What are the best outdoor kitchen covers?
We have listed outdoor kitchen covers that may help end your search. Keep in mind that these are not custom-fitted so make sure to get universal covers.
Patio Armor Multi-Purpose Cover Oversized
This may be the closest you can get at covering an entire outdoor kitchen. Because of its size, it can easily protect your counters and kitchen islands as well as nearby appliance and equipment. It is made from 380GM polyester that feels like a canvass.
The heavyweight fabric along with drawstring gives a secure and tight fit. The underside of the fabric is also coated to protect your outdoor kitchen against moisture. You can be sure that your outdoor kitchen is covered by the changing seasons.
Classic Accessories Veranda Log Rack Cover
Meant of covering log racks, this is also good for covering kitchen counters. It has two front access panels that you can use to get something inside the cabinets underneath. Velcro protects these panels for a tight and secure fit. The fabric also has an undercoating for added protection against wetness and moisture and has air vents to avoid condensation underneath.
Classic Accessories Veranda Patio Table and Chair Set Cover
This is best to use for your tables and chairs stored outside. It covers a patio table and six chairs. It has an adjustable elastic hem for a sure fit and the Gardella protective fabric system won't crack in the cold weather.
KHOMO Waterproof Heavy Duty BBQ Grill Cover
This cover is dedicated to protecting the most important part of your outdoor kitchen, the grill. It is compatible with Gas, Charcoal, Electric, Propane, and Natural Grills, has Click-close straps for secure placement, air vents, and zippered pocket.
The fabric is made from water repellent PVC that will resist any weather conditions. For a secure tight fit, it is equipped with an adjustable elastic hem cord with a toggle. The air vents minimize the chance of mold and mildew buildup.
Conclusion
Investing in an outdoor kitchen cover is cheap yet it brings so much added protection for your outdoor kitchen. Imagine how much you will save by avoiding frequent maintenance and repair for your counters and appliances. For a price of $100 below, an outdoor kitchen counter is something that you shouldn't forget or overlook for your prized outdoor kitchen.