On The Grill In Foil Is A Great Idea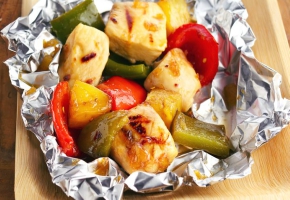 Grill in foil is a common household product that's often used in cooking. Aluminum foil, or tin foil, is a paper-thin, shiny sheet of aluminum metal. It's made by rolling large slabs of aluminum until they are less than 0.2 mm thick.
It's used industrially for a variety of purposes, including packing, insulation, and transportation. At home, people use aluminum foil for food storage, to cover baking surfaces and to wrap foods. Such as meats, to prevent them from losing moisture while cooking.People may also use aluminum foil to wrap and protect more delicate foods, like vegetables when grilling them.
There's an outdated (and potentially dangerous) practice that promoted cleaning cooking grates by laying aluminum foil on the grates, turning the grill to high, and letting it run for a while. This is a major NO-NO. Laying the foil on the grates can restrict the intended air flow inside the grill, which could lead to damage of the internal components, not to mention create a dangerous situation.

Also, on the topic of aluminum foil, is the practice of lining the slide out bottom tray with aluminum foil. This is usually done as a time saving method for cleaning, so one does not have to manually clean the bottom tray, rather, they can just pull out the foil and line it with new foil, as needed.

The problem with this is that the bottom tray on our grills is specifically designed to maximize the flow of grease to the catch pan. If you've ever lined something with foil you'll probably remember that doing so creates all sorts of ridges and creases in the foil, as few people could be bothered to sit there and smooth out each ridge and crease. Check more here.
It can be used to line grill trays to keep things tidy and for scrubbing pans or grill grates to remove stubborn stains and residue.
One of the most convenient ways to cook food on the grill is preparing them without mess. Grilling in foil is the wisest way to do this. It's as easy as placing the food on the non-stick side of the foil then seal the packet for a no-mess grilling. This also helps to keep small foods like shrimp or asparagus from falling through the grill grates. Here are 10 comfort foods that you can quickly grill in foil anytime and anywhere:

Spiced Nuts

Combine 2 cups of salted mixed nuts into 1 teaspoon Chipotle chili powder, 1/4 teaspoon each ground cumin and pepper, and 1 tablespoon butter on a sheet of foil. Form a small package then put over grill over medium heat. Turn often for around 10 minutes.

Cheesy Garlic Bread

Toss 1/2 cup shredded cheese, 2 tablespoons softened butter, 1 grated garlic clove and salt. Divide 1 loaf French bread lengthwise and place cut-side up on a sheet of foil. Spread with the cheese mixture then form a packet. Grill for 10 minutes over medium-high heat. See full article here.
Grill In Foil Is A Common Practice In Cooking
The day-to-day exposure to aluminum that you have through your food and cooking is considered safe. This is because healthy people can efficiently excrete the small amounts of aluminum the body absorbs Whether you wrap food in it before putting it on the barbecue or line the whole thing with a piece to keep it clean, it's common practice for a lot of us.
Packing made from aluminum foil is most widely used in the food industry. They are an important support for many everyday activities in kitchens, which is why every year tons of containers and grill in foil are consumed all over the world. If you're baking fish, roasting vegetables or preparing a piece of meat for dinner tonight, chances are that you'll wrap your food in aluminum foil, call us here: (888) 556-8121.
Related Article:
3 Grilled Fruit Recipes That Will Make Your Mouth Water
Grilled Fish Recipes That Will Make You Love Seafood Even More