Healthiest Way to Grill Your Food In San Diego!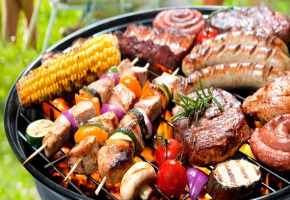 Barbecue season is an opportunity to hang out with friends and family, gather in the backyard. A great way to grill your food is to be mindful in choosing the types and cuts of meat. A fun and way to grill your food is just what you need every backyard party.
Another lean yet flavorful option to serve at your healthy BBQ is fish. During the warmer months, a healthy way to grill your food is a great idea. In terms of getting maximum nutrition without sacrificing flavor, grilling is a great option.
Most people don't realize that vegetables retain more of their vitamins and minerals when they're grilled and especially true with veggies that have a low water content.
Worried about grilling and cancer? Don't let the fearmongers fool you. Check out these ingenious ways to grill for your health.

The smell of the grill. The hiss of the flame. The fun of a backyard barbeque. Grilling is one of the great joys of summer. At the same time, grilling meat does have its risks. Here's how to use your grill to make nutritious, delicious food with minimal health hazards.

In defense of the grill

It's a universal truth: Grilling makes food taste gooood. It doesn't matter what you put on there. It smells and tastes amazing. Burgers? Steak? Seafood? Tofu? Veggies? Lettuce? Yes, yes, yes, yes, yes and, surprisingly, yes — the grill even makes salad taste better. (Try grilled radicchio sometime.) But the grill doesn't just make food tasty. It offers some legitimate health benefits, too. For instance, you don't need much oil for grilling (unlike, say, sautéeing in a pan). And fat drips off during cooking.

Plus, if you're grilling, it probably means you're cooking for yourself. The company of family and friends, the great outdoors, the easy, minimal cleanup — all these perks mean you'll be less tempted to head to a restaurant or call up some takeout. Check more here.
Every meal should have veggies, so when you're grilling, add a few peppers or zucchini to the grill and grilling sweet corn or make veggie kabobs as a side dish.
Memorial Day weekend is the start of the barbecue and picnic season. But when hosting or doing the potluck thing, what can you do to not pack on the calories from eating too much? The answer is simply modifying your choices and not mindlessly reaching for hamburger and hot dog buns.

The first rule of thumb is to steer clear from the chips and junk food and fill up on fresh veggies. Fresh veggies and fruits are festive and will keep you hydrated all day. Next, you may want to use Greek or low-fat yogurt in your dips instead of heavy mayonnaise or sour cream. This will not only add the consistency you want, but also cut down on calories while adding protein. This works great in deviled eggs mixed with some avocado too.

Ditch the buns and wrap up that burger in some Boston or iceberg lettuce. Look for lean ground beef or even better, ground turkey or chicken. If you're a vegetarian, grilled eggplant, portobello mushrooms or zucchini are also a great choice. A nice bean salad would also be a good option served with a light vinaigrette. Also, think kabob instead of sandwich. Most of the above mentioned buns are made with white flour which have no nutritional value whatsoever. Read more here.
There are health benefits to cooking your food on the grill versus on the stove or oven and some of the health benefits and give you some tips to serve up some tasty and healthy meals.
Summer is the perfect time to be active, enjoy the outdoors, and become the master of your grill. But while enjoying popular summertime grilling staples like hamburgers, hotdogs, bratwursts, ribs, and sides laden with mayo, it's easy to get weighed down thanks to the high fat and calories contained in these BBQ favorites. This year, lighten up your BBQ menu without sacrificing flavor. Here are 5 easy tips to eat healthy when grilling.

1. Watch the sauce
Traditional BBQ sauce can be full of salt and sugar, causing it to add unwanted calories. Lighten your BBQ sauce by swapping out the sugar for a sugar substitute and adding liquid smoke flavoring.

2. Skip the mayo
Avoid mayonnaise heavy sides by opting for German-style potato salad and sweet, tangy coleslaw. Can't resist the creamy texture? Try a classic macaroni salad, but instead, opt for low- or non-fat mayo, or plain Greek yogurt, to soothe that craving.

3. Marinate
The simplest way to add flavor to meats is to marinate them overnight. Simply coat meats with a delicious homemade or store-bought marinade and refrigerate overnight in a large plastic bag. As soon as the grill is ready, take the meat out of the bag and place directly on the grill. See full article here.
Ways to Grill Your Food Properly
The good news is that grill your food doesn't just improve the taste of your dinner, it may actually improve your health. Grill your food the meat, however, is believed to help eliminate these chemicals by up to 99%. When meat is cooked at high temperatures or cooked over the barbecue grill.
There are all sorts of creative and surprising recipes for the grill. For example, have you ever tried making a pizza on the grill? It's an option. Grab some whole-wheat dough at the store, turn the grill on high and add some sauce and veggies to grill something other than beef, call us here: (888) 556-8121 for more ideas.
Related Articles:
Grilled Jerk Chicken Wings
Bacon Wrapped Turkey Breast