BBQ Grill Accessories Are Important
Grills and Accessories are a must to choose in the right way according to your choice. Nothing says outdoor get-together like grilled meats and vegetables. But if your grilling experience is filled with more flare-ups, rust, and frustration than fun, you should invest in a new grill. Grilling is the most elemental way to cook. There's the burning wood, charcoal, or gas-producing heat, and there's your food sizzling in that heat. It's a simple way to cook, but it can be daunting. How do you know when your meat is done? How do you get those great grill marks? As with most things, having the right tools makes the job much easier.
Instead of purchasing strictly on price or recommendations, select a grill that matches your style. Are you into convenience and speed? Or do you grill leisurely and try to maximize the smoky flavor? Selecting a grill goes beyond choosing gas or charcoal. Here's a guide that will point out key features that can help influence your purchasing decision and fit your needs.
The Las Vegas Outdoor Kitchen Recommends . . .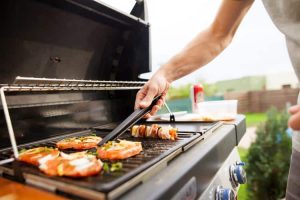 An outdoor kitchen is an excellent way to equip your backyard for entertaining guests and feeding hungry friends and family. Just like an indoor kitchen, the most important features are the appliances. One of the most important decisions you'll have to make when designing your outdoor kitchen is which barbecue grill to go with and which accessories and appliances you will include in your outdoor cooking area.
Outdoor kitchens can consist of areas with little more than a built-in barbecue grill to large, entirely equipped kitchens complete with one or more grills, side burners, sinks, beverage centers, access doors, drawers, refrigerators, sear zones, pizza ovens, and more. The options are literally endless and are only limited by your budget. The Las Vegas Outdoor Kitchen is here to assist you in choosing the right accessories for your outdoor cooking environment.
Throughout this section, we go on to talk about some of the best manufacturers of Barbecue Grills and Accessories in the industry. Our intentions are to arm you with the knowledge you need to make an intelligent buy. Every type of outdoor kitchen accessory we talk about in this section can be purchased at our physical showroom known as Nevada Outdoor Living.
Our Showroom is located in Henderson, NV. If you don't live in Nevada and would like to purchase Barbecue Grills and Accessories online, you can do so by visiting the BBQ Online Showroom. The BBQ Online Showroom is our international eCommerce department. Each brand we mention also has its own page where you can view information about the complete line of products.
Barbecue Grills
Warm weather is always just around the corner here in Las Vegas, so let's just embrace it. With summer comes the heat waves, the glorious scent of sunscreen, fresh-cut grass, citronella, and grills lit up all around the neighborhood. Oh yeah, charred meat!
If you're taking the Las Vegas Outdoor Kitchen's advice, you're working with us on designing a beautiful Outdoor Kitchen area. Right about now you're thinking about your options in Grills and Accessories. The Barbecue Grill is by far the most important appliance of your outdoor kitchen area and there are a number of options to consider when purchasing.
LP, NG, Charcoal, or Pellets. That is the Question
When it comes to fuel for your Barbecue Grill you have a few different options such as Liquid Propane (LP), Natural Gas (NG), Charcoal, or even the popular choice of the electric smoker. Standard Smokers use a combination of electricity and wood pellets as it's the fuel source. The favored fuel type for outdoor kitchens tends to be Natural Gas though. Check out our selection
Cooking and Convenience Accessories
After choosing
To wrap it up
Accessories complete the grilling experience and can even help with the decision on where to place your grill. Grill stations can have added counter space for food preparation, storage for pots, pans, and utensils, and sinks for prep and cleanup. Consider a grill with hanging space for spatulas, forks, and brushes. A small refrigerator can keep meats, beverages, and condiments cold.
We hope you have found this buying guide to be useful and informative and we appreciate the time you took to read through it.