Outdoor kitchen doors are different from outdoor kitchen cabinets because doors are typically better sealed, have locking capability and offer an extra level of overall protection for whatever's behind them. Deciding to build an outdoor kitchen was the easy part… now, welcome to the fun part! Should you invest in greater storage? What about more refrigeration (which would go great with all that bar equipment you should pick)? Let's think technique: expansive griddles and power burners for hotter, hibachi-style heat — or enough smoking firepower to summon rescue helicopters searching for lost hikers? What would fit better in that free spot over there: a ceramic kamado, or a wood-fired pizza oven?
If you're at a loss, why not check out our free outdoor kitchen checklist! It's the itinerary of attractions that await you — everything from side burners to patio heaters. Actually, you know what? Go ahead and print off that outdoor kitchen checklist and start marking everything that catches your eye. After much deliberation, the following setups are where our experts recommend starting.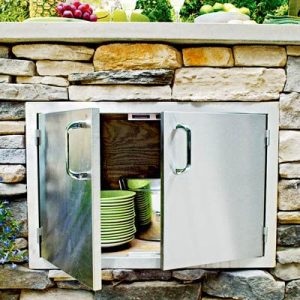 When we think about our outdoor living space, we often think about adding a built-in grill onto our patio or maybe a sink with storage cabinets. But we often forget about the access doors. Including a kitchen in your outdoor living space allows for enjoyable cooking and al fresco dining that can last well beyond the summer months. A well-designed outdoor kitchen crafted with carefully chosen materials certainly increases the value of the investment and adds longevity. So what is a proven material? Stainless steel.
Among the options available for outdoor kitchen cabinets are a variety of wood species, including cypress, ipe, teak, bamboo, and others, as well as polymers, high-density polyethylene (HDPE), masonry and stainless steel. While many outdoor kitchens include one or more of these materials in the outdoor space, stainless steel is often the popular choice for cabinet boxes and cabinet doors due to its durability and high quality.
As you weigh your cabinet options, consider these 5 benefits to selecting stainless steel outdoor kitchen cabinet doors:
Finish Options – While many think of stainless steel as polished silver, there are a variety of finishes including powder coating with a specific color or wood grain finish style. An eco-friendly and sustainable method of coating stainless steel cabinets, it also helps minimize maintenance. The powder coat finishes also protect the stainless steel itself from chips, spills, stains, and unsightly fingerprints and provides a strong defense against corrosion and environmental conditions.
Marine Grade – Stainless steel outdoor kitchen doors easily handle the salty challenges that beachfront properties and seaside escapes pose. The two most popular grades of stainless steel for outdoor cooking environments are 304 and 316L, also known as marine-grade stainless steel. Their numbers are determined by their alloy composition. For a material to be considered stainless steel, at least 10.5% of the make-up must be chromium. Additional alloys typically include nickel, titanium, aluminum, copper, nitrogen, phosphorous, selenium, and molybdenum. The key difference between the 304 and the 316L is the addition of molybdenum in the 316L. It is the molybdenum that enhances corrosion resistance in environments rich in salt air and chloride – giving 316L the moniker of "marine grade" stainless steel.
Longevity – Wood requires consistent and regular maintenance to extend its life, while plastics and HDPE tend to lose their shape in the heat. Stucco islands often experience water damage from rain and puddling water. However, regardless of the grade of stainless steel, this choice in cabinet door material exceeds the life cycle of other typical alternatives mentioned above to extend the life of the doors and the overall integrity of the outdoor kitchen. Regardless of your material, proper cleaning helps extends the life of outdoor kitchen cabinet doors – even stainless steel.
Bacterial and Fungal Resistance – Stainless steel has a non-porous laboratory work surface, ensuring no liquids, bacteria, fungus or mold can penetrate it. This means that bacteria, fungi, and dirt have nowhere to hide. With routine cleaning practices, the risk of germs spreading or cross-contamination occurring is significantly reduced. So, if the outdoor kitchen chef is prepping chicken and opens a cabinet door to reach for a knife, the easy-to-clean surface poses no health risk!
Eco-Friendly – Stainless steel is not just a durable, beautiful, and resilient material. It is also an eco-friendly outdoor cabinet material. Stainless steel is entirely recyclable and, with its extreme strength, the need to replace cabinet doors often is reduced. Great for the environment and financially, it's a win-win. Known for a variety of traits, stainless steel continues to be a popular choice not only for doors but entire outdoor kitchen cabinets.
We look to add components that will minimize making numerous trips in and out of the house. Of course, you have to be sure your budget and space will allow for all the conveniences you would like. It's true that outdoor cabinets are built to be more protective than indoor kitchen cabinets, but for an extra level of protection look for doors that have seals, closing latches and locks to protect delicate or expensive parts of your outdoor kitchen.