Stainless Steel Appliances Will Never Go Out Of Style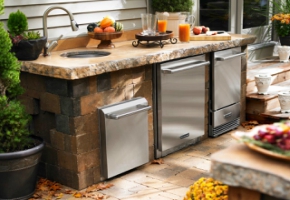 Stainless steel appliances are a modern neutral in today's kitchens. Stainless steel appliances are like blue jeans they work with just about anything. All stainless steel appliance will look good together in a kitchen.
Stainless steel appliances are a great way to go. Stainless steel appliances are probably cleaner. Stainless steel appliance are by far the most popular choice for appliances today.Adding stainless steel appliance will instant modernity to any kitchen, and their reflective surfaces will make smaller kitchens look bigger.
I would argue that stainless steel appliances in the best choice for a beautiful kitchen or laundry room.  Over time color trends change. When it's time to redecorate such as paint your walls, change countertops, or flooring in the kitchen or laundry room, stainless steel appliances will not need to be replaced. Paired with any other surface like cooper for example stainless steel again is the perfect choice.  You cannot lose.  No wonder it is so popular.

All the design type shows, flip my house, and home buying shows on HGTV feature stainless steel appliances as the best "well equipped" deal or no deal breaker.  A buyer of a home wants what they want so if your trying to sell your home think about updating to stainless steel appliances.

Great kitchen/laundry room combination with stainless steel appliances.

Stainless steel wolf range, hood, and convection oven.

Beautiful balancing act use of space placing the stainless steel refrigerator and double oven on each side of the kitchen.  I love these warm coffee toned wood kitchen cabinets and dramatic black chairs. Read more here.
Protecting your stainless steel appliance will make them sparkle and shine for years to come, and will keep your kitchen looking beautiful in the process.
Stainless steel appliances have been a staple of commercial kitchens and the restaurant industry for years due to their rugged, easy-to-clean construction. That's why many people are turning to stainless steel to experience the same benefits in their homes. Here are the top five advantages of using stainless steel appliances.

1 Long-Lasting

Kitchen appliances have to withstand the commotion of a busy home. Your stainless steel refrigerator won't easily scratch during accidental collisions, and your stovetop will resist stains and rust despite constant, messy use. This durable material will keep your appliances looking like new for years.

2 Easy To Clean

Cleanup is a breeze on stainless steel surfaces. You can easily wipe up a spill or polish dull surfaces using just a clean rag. Use a mild soap and warm water to keep your appliances sparkling and tidy. Special cleaners and polishes for stainless steel can remove more stubborn messes and help the surface repel dirt or fingerprint smudges.

3 Germ-Resistant

Stainless steel is non-porous, which means it resists lingering germs and bacteria better than wood or plastic surfaces. This makes stainless steel great for homes with children and animals. Use a disinfectant cleaner to quickly sanitize the area and provide a safe place for preparing food. Check full article here.
Stainless Steel Appliances Will Be Amazing As Feature
Stainless steel appliances are durable and easy to maintain, but they do require regular cleaning. Stainless steel appliance will surely make a bold addition to your kitchen, especially with their satin finished chrome handles. Stainless steel appliance will help keep your kitchen looking up to date, regardless of the color and style of your cabinets.
Combining white kitchens with stainless steel appliance will make your modern kitchen seems outstanding. Stainless steel appliance have become so mainstream, they're basically expected in any updated kitchen. Stainless steel appliance are obviously a huge trend in the design world, but there are ways to incorporate them in secret, call us here: (888) 556-8121!
Related Articles:
Why Fire Tables Are The Latest In Outdoor Patio Dining Furniture
Practical Secrets To A Successful Fire For Your Charcoal Smoker