An outdoor kitchen is a place outside of the home where you can entertain, cook and prepare meals while enjoying the open air. It expands your living room to the outdoor space. Your outdoor kitchen is the centerpiece of an outdoor entertaining area that lets you entertain family, friends, and guests beyond the summer months outdoors. Our expert design team turns outdoor kitchen ideas into reality.
Planning a home enhancement project requires research, planning, creativity, knowledge, and a good amount of patience. While some homeowners hire designers, others may prefer the DIY approach. Either way, there are many things to keep in mind during a home enhancement project, particularly when designing outdoor kitchens. Outdoor kitchens greatly expand the value of a home and they are perfect for outdoor entertaining. They offer a great place to entertain, provide more storage space, and the opportunity to be more adventurous when cooking.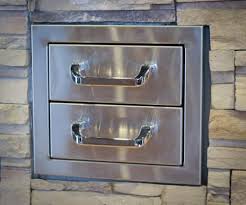 We've been in business long enough to know that storage usually isn't the first thing most people notice about an outdoor kitchen (hint: It's the grill). But these often-overlooked components form the backbone of your BBQ island and are designed to make outdoor living more convenient and better organized. Some outdoor kitchen doors, drawers, and storage components simplify cooking, while others allow you to focus on entertaining or address a safety concern.
For more than 20 years, BBQGuys® has helped people across the nation build their dream backyard. Our outdoor kitchen design experts have designed and digitally rendered thousands of outdoor kitchens, so we know a thing or two about picking the right grill island storage components. We'll not only guide you step by step through the buying process, but also show you what you absolutely need in your outdoor kitchen and how to get the most out of the space.
Should Outdoor Storage Match Your Grill?
Match Your Storage to Your Grill
Do you dream of a completely cohesive outdoor kitchen? Many outdoor living brands, such as Lion, offer full lines of BBQ island storage that match their grills in style, materials, and details. Some manufacturers even produce multiple lines to be paired with different grill collections. Lynx outdoor kitchen storage, for example, has both Premium and Standard options to complement the brand's separate grill tiers. Keep in mind that Premium BBQ island storage is a big investment and should be factored into planning costs upfront if you want everything in your outdoor kitchen to match.
Or Go With Matching Components
Even if matching your outdoor BBQ storage to your grill isn't a priority, we highly recommend having all your components at least match each other. Look for outdoor kitchen cabinets with the same style of handle, for instance. If you're sold on a certain grill but can't afford the brand's matching outdoor kitchen cabinets, it's best to step down to a Standard line like BBQGuys brand island storage. You can then invest the savings in your grill or additional storage components (who says no to extra cabinet space?) that will maximize the functionality of your outdoor kitchen.
Premium Outdoor Kitchen Storage
Most Premium brands match their storage lines to their grills for a harmonized look, plus they're packed with helpful features like hidden hinges, recessed handles, and soft-closure mechanisms. Some storage components even have gaskets to protect dry goods and plates from the elements. You'll also find a few brand-specific features that enhance style — the variety of colors from Hestan and the illuminated glass paneling found in Luxor outdoor kitchen storage can really make your space stand out. The luxury look and small details of Premium BBQ island storage are sure to wow guests, not to mention that every component is guaranteed to be durable, 304 stainless steel at minimum.
Standard Outdoor Kitchen Storage
When matching storage to grill is too costly or simply doesn't matter to you, Standard outdoor BBQ storage is the way to go. They usually have visible hinges and simple handles along with a generic stainless steel style. Storage in this class looks fairly similar between brands yet provides an understated aesthetic that doesn't steal the show. Though Standard grill island storage may include various grades of steel, we recommend you choose 304-grade stainless steel outdoor kitchen components for longevity. BBQGuys brand outdoor grill storage in particular is made entirely from 304-grade stainless steel, so you can be confident in its durability even in the harshest elements.
Outdoor Kitchen Storage Necessities
Of course, there are a handful of BBQ island storage components that every outdoor kitchen needs. These must-haves are designed to provide safety and convenience in your outdoor space.
Outdoor Kitchen Access Doors
Grill island doors are vitally important because they give you access to your grill's gas plumbing connections and to water lines for outdoor kitchen sinks. BBQ access doors don't have to be placed directly beneath your grill, but they should be within 6 feet so you can perform maintenance or repairs as necessary. Any appliance with gas or water plumbing needs a point of access, so stainless steel outdoor kitchen doors are one storage component you shouldn't overlook.
Outdoor Kitchen Storage Drawers
When you think about outdoor BBQ storage, drawers are probably the first thing that comes to mind. They're the basic unit of grill island storage, providing organization and a place for everything from grilling tools to towels to flatware. Outdoor drawer storage makes it possible to keep everything you need for a cookout at arm's reach — without them, you'll spend more time running inside for supplies than you will enjoy the company of family, friends, and food.
Access Door & Drawer Combos
These space-saving BBQ storage components provide a neat solution to the necessities of both access and storage. As with stand-alone outdoor kitchen doors, the door/drawer combos can be installed within 6 feet of your grill, though they're normally set up underneath it. Combined outdoor kitchen doors and drawers come in several different configurations that pair up to 2 doors with as many as 4 drawers, so you can find the exact option you need when planning your outdoor space.
Fire Extinguisher Cabinets
Dedicating one of your outdoor kitchen cabinets to fire extinguisher storage is one of the most important precautions you can take when designing your space. Grills run on combusting fuel, so you can never be too careful when dealing with fire, no matter how small. It's best to store your fire extinguisher close to the cooking appliances so you can put down fires in a hurry. You're working hard to design and build the outdoor kitchen of your dreams, so why put it all at risk?
Propane Tank Enclosures
Propane tank bins are vented to provide safe and secure housing for fuel, should you choose a built-in propane grill. Safety concerns aside, propane tank storage opens up floor space and removes a potential eyesore from your outdoor kitchen. Propane tank enclosures with a sliding roll-out drawer have an added benefit – they make it much easier to change out empty fuel tanks. These components should never be installed directly under your grill, so check your manual for proper placement.
Outdoor Kitchen Trash Bins & Chutes
You plan to cook in your outdoor kitchen, right? Well, cooking creates trash, and trash needs to go somewhere. You can conveniently dispose of waste in an outdoor kitchen trash bin, which removes the need for frequent trips into the house or unsightly trash cans in your beautiful outdoor space. Trash bins come in single or double configurations that slide or tilt out, while BBQ island trash chutes are built right into the countertop so you never have to open the bin except to empty it.
While you're making note of grill island storage necessities, we recommend using our outdoor kitchen checklist to keep track of everything you'll need to create your dream backyard.
Outdoor BBQ Storage You'll Wish You Included
In our home state of Louisiana, we use the word lagniappe to mean, "a little something extra" which is exactly what these grill island storage components can be to your outdoor kitchen. They may not be a strict necessity, but many of our customers have said they deeply regret not including these outdoor BBQ storage pieces when building their outdoor kitchens.
Enclosed Outdoor Kitchen Cabinets
Think of all the dry goods and seasonings you use while cooking. You'll want to store some of those in your outdoor kitchen. Grill storage cabinets allow food items like condiments, spices, and rubs to stay on your BBQ island without getting ruined by the elements. Dry-storage cabinets preserve food from moisture and humidity while protecting it from ants or other insects. For best results, go with stainless steel outdoor kitchen cabinets that are waterproof, water-resistant, or labeled as dry storage.
Outdoor Kitchen Paper Towel Holders
So much of grill island storage is about saving space, and BBQ paper towel holders are one of the best examples of that concept. They don't take up counter space but still keep paper towels nearby and out of sight when prepping, grilling, serving drinks, and cleaning. Just keep in mind that outdoor kitchen paper towel holders, which are often combined with other grill island storage components in combo units, generally fit only a standard paper towel roll and not the larger ones.
Ice Bins & Ice Chest Drawers
If you consider yourself an outdoor entertainer — or bartender — this is one component you can't go without. Ice bins are essentially built-in, stainless steel ice chests that let you keep refreshments cool for guests. Ice chest storage drawers, meanwhile, are meant to hold a standard ice chest and work slightly better with ice makers because they can be placed side by side in your BBQ island. Pro tip: When empty, ice bins can be used as general storage for things like tablecloths and napkins.
BBQ Island Spice Racks
A grill master needs all their favorite seasonings close at hand for family BBQs and impromptu cookouts alike. Spice racks inside outdoor kitchen drawers address this need and preserve counter space so guests have a place to enjoy the flavors you're cooking up. With this kind of outdoor BBQ storage on your grill island, you never have to run inside for sauces, spices, or rubs. Remember, the whole purpose of an outdoor kitchen is to function as an indoor kitchen in the comfort of your backyard.
Grilling Island Cutting Boards
Cutting boards are typically big and blocky, but they can be totally hidden from view with the right outdoor kitchen drawers. These space-saving components (sensing a pattern yet?) work best when placed directly above a trash bin — that way, you can slide out both drawers at the same time and toss your waste right into the bin below. And though the cutting board/trash chute combo from Blaze
Outdoor Kitchen Warming Drawers
While we encourage you to try cooking everything on the grill, we know you can't always cook everything on the grill at once. That's where warming drawers come in. These stainless steel drawers for outdoor kitchens are great at keeping food warm after it's been grilled, and they can also heat upsides and hamburger or hot dog buns to accompany the main course. You can even use outdoor kitchen warming drawers to keep pool towels warm so guests can spend less time shivering and more time enjoying your outdoor space.
Outdoor Kitchen Storage Trends
Whether you're matching storage to your grill, choosing a different brand for individual components, picking only the necessities, or going all out with every available item, each design decision you make helps establish a theme in your outdoor kitchen. Below are a few starting points for figuring out what themes or styles you can create using grill island storage.
Stainless Steel BBQ Storage
In addition to its durability, stainless steel lends a sleek look that works well with traditional designs. Stainless steel outdoor kitchen cabinets can be paired with red brick, painted brick, or stone to create a classic aesthetic in your outdoor space, and they look great alongside virtually every countertop material. Not all stainless steel is created equal, which is why we recommend you go with 304, commercial-grade stainless steel for its durability. Keep in mind that stainless steel must be periodically cleaned and dried to avoid fading.
Colorful Stainless Outdoor Cabinets
You're investing a ton of time and effort into your outdoor kitchen, so it should reflect the design elements that you love. If bold and beautiful is your style, try a maximalist design. One of the best ways to draw attention is to build with colored stainless outdoor kitchen components, like Fire Magic Echelon Black Diamond storage or colored stainless steel doors and drawers by Hestan. They pair best with ledge stone, stacked stone, and stucco BBQ islands, while the preferred countertop options are black soapstone, marble, and quartz.
Teak Grill Island Storage
Maybe your style favors natural textures and colors in which case you should strongly consider using Pacific Teak Millworks grill island storage. Neutral finishes with subtle texture and earthy palettes complement teak, as does the modern look of poured concrete countertops. Teak gives off a warm and inviting feeling that you can't achieve with stainless steel, but like stainless steel, you'll need to perform regular maintenance on it. Apply an outdoor furniture oil or sealer at least twice a year to keep your teak outdoor cabinets looking their best.
Final Considerations
The name of the outdoor kitchen storage game is maximizing the space you have. With the right set of BBQ island storage, you'll also be able to keep everything you need for outdoor gatherings outdoors while maintaining a neat and tidy space. That's why we advise you to look for multi-function components, which save room in outdoor kitchens that are better off equipped with awesome appliances like ice makers, refrigerators, and wine cabinets.
Once you have an idea of what you want nearby when grilling or entertaining, then you can begin figuring out which BBQ island storage components you need. Just don't forget to give yourself room to grow — that means planning ahead for storage that holds cooking accessories or tools you may come to need.
Perhaps the most important thing to keep in mind is that you're planning your outdoor kitchen. You'll be the one looking at it every day, so make sure you're happy with each design choice before you buy your outdoor kitchen cabinets.