A Wood Burning Fire Pits In San Diego!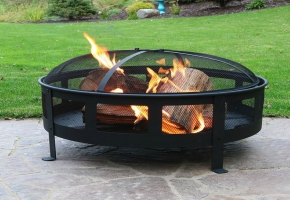 The traditional choice for an outdoor fire pit, wood burning fire pits are simple to install and easy to use. Wood burning fire pits are great, the setting has to be ideal. The majority of wood burning fire pits are made of steel with the biggest differentiator between them being the size of the fire bowl.
The other nice thing about portable wood burning fire pits is they can be ignited anytime. Wood Burning Fire Pits are the closest thing to a real campfire you can get. Outdoor Wood Burning Fire Pits are capable of producing a larger, hotter fire than most gas fire pits.Wood burning fire pits can be placed just about anywhere and can convert the atmosphere of any backyard into a perfect place for friends and family.
Nothing sets a mood or a scene quite like the sensation of wood burning in a fire pit. Whether you want to generate some warmth, cast a calm ambiance, or coerce conversation on those summer nights, our list of best wood burning fire pits will have something to ensure all of your guests feel right at home. A fire pit is arguably the most appealing focal point on a back patio when you want to have guests over or enjoy a relaxed night with the fam.

Not only will a fire pit provide ample heat on a cooler night, it will certainly spark conversation and bonding experiences among those present. You know, it'll provide that content feeling which seems to open those introverts up like a bottle of scotch on a Friday night. When going about finding the best fire pit for you, though, there are three things you must consider: size, safety, and maintenance.

Size:

The size of your wood burning fire pit is going to depend on how much room your respective backyard provides and how many helping hands you think you can grab. All of the fire pits presented here are portable, meaning you'll want to find something you can carry with one, two, or three people at most. Check more here.
The biggest impediment for wood burning fire pits is getting enough air flow into the fire bowl so the wood twigs, chunks and logs continue to burn.
Transform your outdoor with an attractive and comfortable fireplace! An outdoor fireplace can be built to add such interesting atmosphere. However, there are a few things to take into account. They are the location, material, fuel source and of course your budget as well. Do it yourself or hire a professional, some plans are needed to make sure all things run well. This means budget and time saving. Learn the details below!

Choosing a material that easy to work with is efficiency. Concrete is an affordable way too. You can easily paint or tint concrete outdoor fireplace. Different materials need different tools to work with. They determine your work including matter of shape and size. Are you planning on having a large fireplace? Then using a power tamp or small excavator is a must. For smaller ones, a shovel or pickaxe will just help you fine. Concrete buildings always include a trowel and cement mixer as must have tools.

What type of power to use in your outdoor fireplace? Is it gas, electric or propane? To bring in natural element, wood burning fireplace is a great choice. A simple fire pit will do it well. Do you plan to have an outdoor kitchen with pizza oven? Make sure about well structure to stand strongly and steadily. Gas fireplace needs to be installed properly and professionally. Read more here.
Outdoor wood burning fire pits are designed to last for years and built using only the finest and most durable materials so you'll be able to relax comfortably outside for years to come.
Whether you already have a fire pit or are planning to add one, invest some effort in reviewing fire pit safety. This is especially important if you're new to using a fire pit. It only takes a second for a cozy fire to burst into a blazing inferno. Ensure you get the most enjoyment from your fire pit by keeping family and friends safe.

Fire pit safety starts with selecting the right site. Make sure the ground is level, especially when using a portable fire pit. Keep fires located at least 10 to 20 feet away from surrounding plants, as well as from nearby buildings, including your home. Check with your local city and county authorities to make sure you observe the distance required by law.

Never operate your fire pit beneath a building overhang or in a partially enclosed space. Use special caution related to overhanging trees, which can easily ignite from flying wood-fire sparks. In fire-prone areas, surround your fire pit with non-combustible materials, like crushed stone, brick, or sand. See full article here.
Wood Burning Fire Pits Are Great For The Outdoors
Outdoor wood burning fire pits are also a great way to add a fun element to your backyard. Wood Burning Fire Pits are even available in many different finishes, sizes, and use. Perfect as a centerpiece or a decorative accent, a wood burning fire pits are sure to impress in any outdoor setting.
Wood burning fire pits can double up as wood-burning grills, outdoor fireplace, or stone fire pit. Since they are used outside, our outdoor wood burning fire pits are made with the highest quality materials possible, call us here: (888) 556-8121. Wood Burning Fire Pits are affordable, easy to install way to enhance your outdoor space.
Related Articles:
Best BBQ Gloves for Grilling, Smoking, and Fire
Best BBQ Grill Tools for Your Outdoor Cooking