Fire Magic Grill San Diego
Why buy a Fire Magic Grill San Diego?
The Fire Magic Grill San Diego homeowners want when only the best will do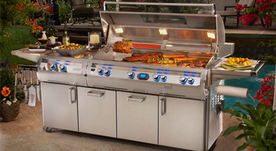 can be any one of the fine model series RH Peterson produces. RH Peterson is also the manufacturer of American Outdoor Grills which are built of the same quality as Fire Magic Grills, but don't offer as many built in features and amenities.
While it's true Fire Magic has a reputation for designing elite, artful and superior quality grills that are for even the most discerning connoisseur, if there were ever a case to be made that grills can be works of art, Fire Magic grills set the standard to make that case. Whether it's a restaurant owner wanting a high class grill for their business patio or a home owner' backyard, it only takes one look to know a Fire Magic Grill San Diego home or restaurant owner to be a class act.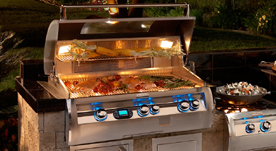 But these BBQ Grills and Fire Magic Grilling Accessories do deliver substance as well as expressive style. These grills are made to make pleasurable memories and they set out to do it with high-quality materials and engineering that provide excellent performance. Fire Magic grills will inflame your passion for grilling like a magic fire for a lifetime!

---
Purchase Gas Grills Currently On Sale Through Our Secure Online Shopping Cart
---

[one_half]
The Aurora Series A430i 24″ Gas Grill
Click ↓ Pic ↓ Zoom + Details


24″ Fire Magic Gas Grill A430i
Original Price: $4,154.00
Your Price: $3,530.90
You save $623.10
Weight: 175 LBS
Shipping: Free Shipping
(Continental U.S. Only)


[/one_half]
[one_half_last]
The Echelon Series E660i 30″ Gas Grill
Click ↓ Pic ↓ Zoom + Details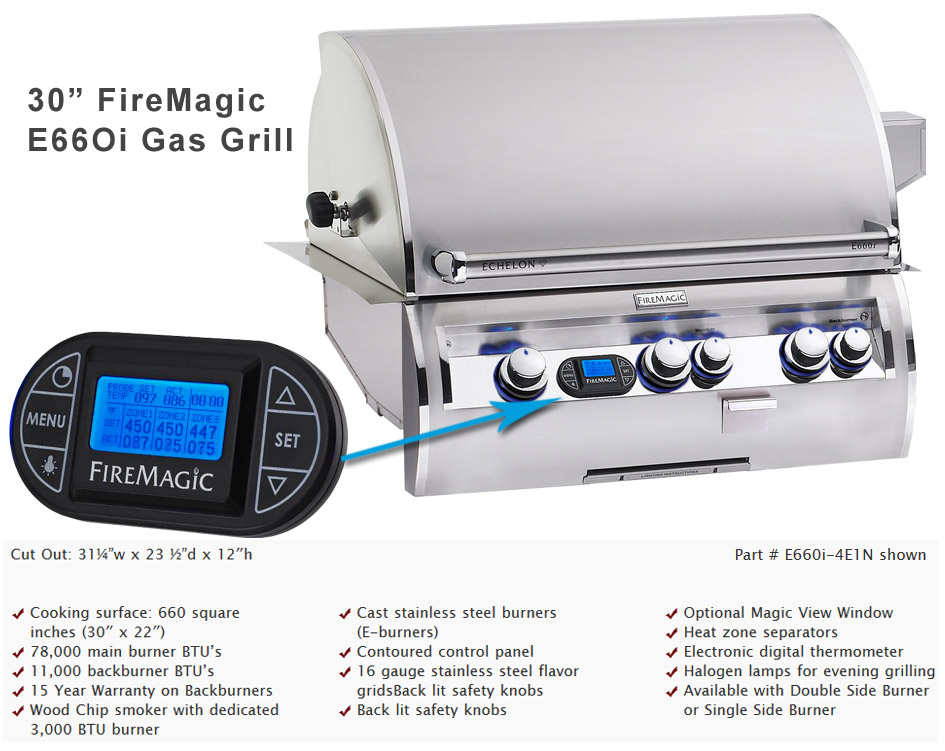 30″ Fire Magic Gas Grill E660i
Original Price: $6935.00
Your Price: $5,894.75
You save $1,040.25
Weight: 245 LBS
Shipping: Free Shipping
(Continental U.S. Only)

[/one_half_last]
---
[one_half]
The Echelon Series E790i 36″ Gas Grill
Click ↓ Pic ↓ Zoom + Details


36″ Fire Magic Gas Grill E790
Original Price: $7,475.00
Your Price: $6,353.75
You save $1,121.25
Weight: 275 LBS
Shipping: Free Shipping
(Continental U.S. Only)

[/one_half]
[one_half_last]
The Echelon Series 1060i 48″ Gas Grill
Click ↓ Pic ↓ Zoom + Details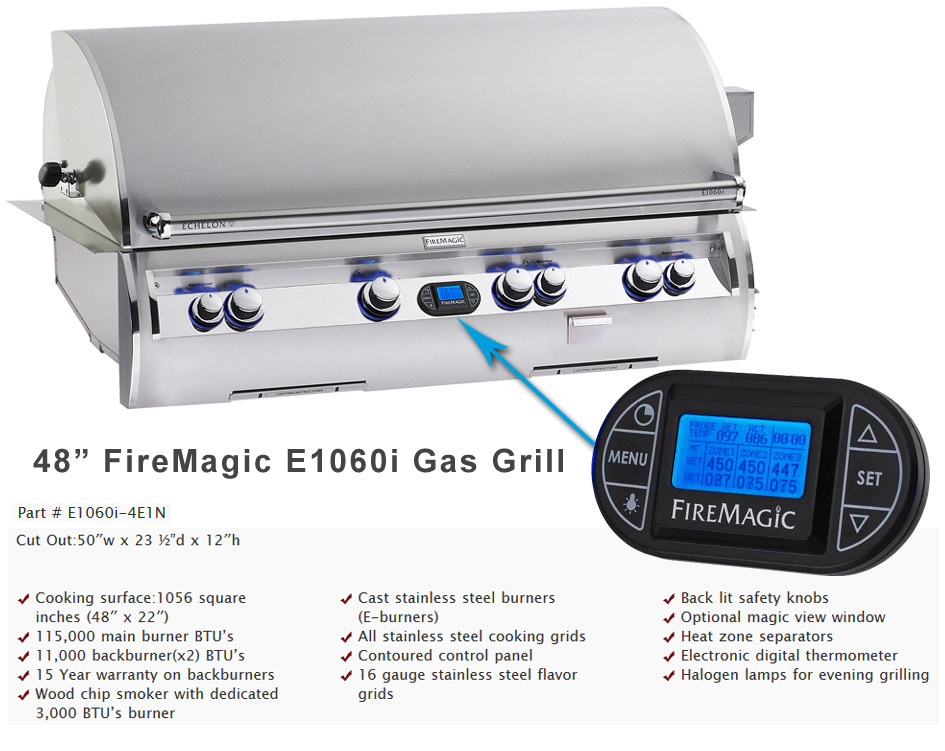 48″ Fire Magic Gas Grill E1060i
Original Price: $9,276.00
Your Price: $7,884.60
You save $1,391.40
Weight: 350 LBS
Shipping: Free Shipping
(Continental U.S. Only)


 [/one_half_last]
---
[message type="info"]Another Option To Consider for Your Barbecue Grill is the "BLAZE Grill San Diego". Blaze Grills were designed with today's savvy, budget-minded consumer in mind without sacrificing quality or performance.[/message]