Style is the king of impressiveness and a built in gas grill cannot be anything but impressive. What man wouldn't want a grill altar in their backyard upon which delectable meat treats can be seared? The more important question is, what kind of fuel source do you want for your grill – gas or charcoal? What are some advantages and disadvantages to having built in gas grills opposed to having a portable charcoal or gas grill?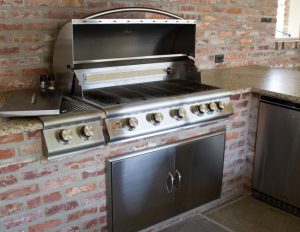 The only way to grill meat in the past was using charcoal and in some cases firewood. Nobody seemed to want to try gas until the technology improved. Nowadays, the best meats seemed to come from gas grills. Many homeowners seeking to have a ready source of grilled meats for enjoying at home and entertaining guests are looking to have built-in gas grills at home. Climate change enthusiasts are keen to promote the use of natural gas as a cleaner source of fuel compared to burning charcoal. The actual grillers at home and in commercial settings will appreciate the clean surface and the ease of regulating the heat in a gas grill compared to a commercial charcoal or wood burner.
The Unique Features of Gas Grills
The price you pay for each operation is low for the gas grill. You have a specific cost of fuel to consider, and you can use the grill in all weather, and this beats all the alternatives. Grilling in an apartment when you are several floors above the ground, or when you are at the rooftop might be dangerous when you are using charcoal. It can also get messy and look unpleasant. On the other hand, controlling your gas supply and having a set up at the rooftop of your apartment building is easy when you have a gas grill.
Built in Gas Grill
As the name suggests, the built-in type comes as part of the building or the structure where it sits. It is immovable, and it serves as both a feature of the room or structure, while also serving as a grill capable of doing anything you would want with such equipment. It needs a gas line installed, and it is possible to have a conversion kit such that you can fit different replacement gas cylinders when you lack a mains gas supply.
Size Matters in Built-in Gas Grills
The size of the grill should be one of the concerns you have before purchasing the grill. Remember it comes as a fixed feature and you do not want to get something too big or too small. Consider the number of times you will be using it and the occasions. Moreover, think about the overall demand from a grilling perspective. If you have several menu items that involve grilling and you take such meals regularly, then having a medium sized grill might be good for you. If you are an entertainer and are likely to have more than a dozen adults attending your events on most occasions then having the larger size is crucial. You do not want people waiting in line for long.
Check Reviews before Buying
It's important to know what you are going to get. The internet offers plenty of information to inform your choices. Work with the best brands and know why they come above the rest in reputation scores. 2. check these reviews of the best built-in gas grills and then make a choice based on your needs and the best features highlighted from the reviews.
A standard outdoor gas grill is mobile and you can move it around the patio, which is nice but it's really hard to have the full outdoor kitchen with just a grill. A built in grill offers that and makes it simple to do as long as you can afford the higher end cost. Plus an outdoor kitchen just looks good. It's a great setting for parties and it's fun to show it off to your friends.