Gas grills are great and charcoal grills also have their advantages. But can you use charcoal in your gas grill? It's a question that gets asked more than you think and the answer depends on your grill. Hard wood pellet grills, propane gas burners, charcoal kettles, picking the right backyard cooker for your needs isn't easy. We break it all down so shopping for one is easy. Summer has arrived, and that means it's grill time. Is your backyard cooker ready? Maybe it needs a deep cleaning. If it's good to go, start prepping for a cookout or low and slow barbecue session. If not, maybe you should consider buying a new grill. The landscape is constantly changing though, and the great debate over which type of grill is better has only grown more complex with more options. It's no longer just about charcoal vs. gas.
Gas Grills vs Charcoal Grills: What You Need to Know to Make Your Grill Buying Decision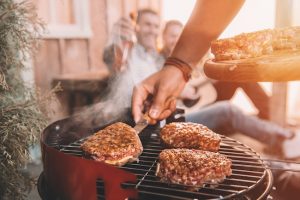 As spring and summer approaches, you will probably start to think about looking at that old grill in your garage or on your porch. Perhaps, you'll even ponder the idea of purchasing a new grill. But, which type of grill should you purchase? Should you go with a gas grill or a charcoal grill this year? Before you buy, make sure you think about the pros and cons of gas grills vs. charcoal grills.
To make this easier, we are listing out everything you need to know about this buying decision in this blog post. Continue reading to learn what is best for you, when deciding between gas grills vs. charcoal grills.
Gas Grill Advantages: Where Gas Beats Charcoal
There are many advantages to purchasing a gas grill. So, let's go over the pros and cons of gas grills. Without further adieu, here are the top 5 reasons to choose a gas grill over a charcoal grill:
Convenience & Control
When you are deciding between gas vs. charcoal grills, oftentimes convenience is a major deciding factor. The fact is that gas grills can be lit much more quickly than charcoal grills. You simply need to turn on the gas grill whenever you are ready and the grill will be heated up rather quickly. You can also control the temperatures easily with the turn of the knob. With multiple burners, you can create multiple cooking zones. By contrast, a charcoal grill takes more time to get the charcoal hot and heated to the appropriate temperatures. Plus, it takes some finesse and planning to create a second zone.
Gas/Propane Is Cheaper
Another positive for a gas grill is that the fuel tends to be cheaper. If you use propane, for example, you can buy a new, full propane tank for around $15-25. This tank can last you many grilling sessions before you will need to refill it. Conversely, when you use a charcoal grill, you will have to fill your grill with charcoal cooking fuel each cooking session. Also, if you want to use your charcoal grill for a lengthy party, you may need to refill the grill with charcoal more than once.
Gas Grills Can Hook Up to Your Home
Another aspect to the convenience of the gas grill is its natural gas hookup capabilities. A lot of gas grills have model versions for natural gas that can hook directly up to your home's gas line. This adds an extra level of convenience, where there is no need to add more fuel. Charcoal grills do not have this type of flexibility.
More Accessories
Many gas grill models can come with a wide range of accessories. Whether it is side burners, flavorizer bars, smoke boxes, or a lot of other things, you can probably find a lot of bells and whistles with a gas grill. Charcoal grills, on the other hand, have less accessories and are much simpler in how they function.
Simple to Use
Generally, gas grills are relatively easy to use. With some simple direction, anyone could get a gas grill turned on and start grilling. As we already mentioned, gas grills offer convenience at their core. This also extends to cleaning the gas grill too because there is no ash. Plus, they cool down quicker so you don't need to wait to finish the post-grilling cleanup process. This is different than a charcoal grill, which has some more complexity in how you get the fire going. And, cleaning the charcoal grill is more involved due to the coals and ashes involved.
Related: 10 Grill Buying Questions to Consider When Shopping for a New Grill
Gas Grill Drawbacks
While there are some disadvantages of gas grills, we feel that the advantages far outweigh the negatives. In fact, we would argue that there are not any true disadvantages, but more details that you need to know. Make sure that the gas grill is right for you in your environment. Here are 3 things to keep in mind:
More Expensive
Gas grills will be more expensive than a charcoal grill. With a gas grill, you are getting more bells and whistles, more complex mechanisms, more parts, and more convenience.
Limited Mobility
Another drawback to a gas grill can be its limited mobility, especially when compared to a charcoal grill. When you get a gas grill, chances are that it will stay in one spot. With the weight of the device, and the added weight of a propane tank, it can be difficult to move around. This is different than a charcoal grill, which are usually smaller and more portable. It isn't unusual for charcoal grills to be brought from one place to another – to parties, while traveling, or tailgating.
Doesn't Burn as Hot as Charcoal
Another difference between gas grills vs. charcoal grills is the amount of heat possible. Generally speaking, natural gas or propane fueled grills do not get as hot as charcoal grills. As a result, you won't be able to sear meats, like steaks, on a gas grill as well as you could on charcoal. The best meats for a propane grill are thinner meats. So, if you're only going to be grilling hot dogs, burgers, and wings, a gas grill will work just as well as a charcoal grill. So, keep this in mind if you need a certain amount of heat when grilling your food.
Charcoal Grill Advantages: Where Charcoal Beats Gas
Now that we have finished going over gas grills, it is time to move onto talking about the pros and cons of charcoal grills as compared to their gas grill counterparts. Here are the top 4 reasons to choose a charcoal grill over a gas grill:
Smokey Flavor & Taste
The best reason for cooking with charcoal is its reputation for great taste when grilling thicker meats. Some people love charcoal grills because of the smokey flavor that you can get in the meat you are cooking. For example, a thick piece of meat cooked slowly on a charcoal grill will get a lot of extra flavor from the smoke. This is different from a gas grill, because of the exposed coals. You can also use wood chips, healthy charcoal briquettes or other flavored cooking fuels on charcoal grills, for added and variety of flavor that will rival any steakhouse. As a result, some grill aficionados swear by charcoal grills for better taste on steaks and other thick red meats. If you're mainly looking for this type of great, authentic taste, then a charcoal grill could be your best bet.
Less Expensive
Well, if price was a disadvantage for gas grills, then obviously it is an advantage for charcoal grills. As you can expect, with less accessories, less mechanisms, and less parts, charcoal grills are usually less expensive.
Portability
Another one of the best reasons to buy a charcoal grill is the portability. A lot of charcoal grills are also portable grills. This is because a lot of them are smaller and easier to load into your vehicle or just move around in general. Of course, there are bigger charcoal grills out there that will be less portable, but for the most part, they are more agile.
Related: Top 5 Tailgating Grills for Football Season
Charcoal Burns Hotter Than Gas
When it comes to charcoal grills vs. gas grills, the coals of a charcoal grill will burn much hotter than the natural gas or propane of a gas grill. This means that a charcoal grill will out-sear a gas grill, helping you get steaks crisp on the outside while keeping them pink in the middle. This goes back to the first advantage of a charcoal grill, which was taste. In addition, a charcoal grill can cook more meat at once at these high temperatures. For example, you could grill more steaks at a higher temperature for a large group of people. If this is important to you, charcoal will get you the most heat.
Related: 9 Signs You Might Need to Buy a New Grill
Charcoal Grill Drawbacks
As with gas grills, there are some potential things to know to charcoal grills. Pay attention to the following 4 details to see if a charcoal grill is right for your situation. If none of these a deal breakers for you, then a charcoal grill could work for you.
Takes Some Practice
As you will see with some of the other drawbacks, charcoal grills are not for everyone. It takes some practice and knowledge to operate them effectively. It takes finesse to light a charcoal grill and keep it at the desired temperature. But, with a little knowledge, you can become an excellent charcoal grill-master.
Less Convenience & Control
The major drawback to a charcoal grill is the amount of time and effort that it takes to heat up the grill. It is not uncommon for it to take up to 20 minutes or longer to properly light and heat up your charcoal grill. It can go quicker with a chimney starter. But, if you are not patient, or do not have the time to wait for the charcoal grill to heat up, a charcoal grill might not be for you. This contrasts with a gas grill, which can be lit and heated up within minutes.
In addition, because there is no knob on the grill, you cannot turn the heat up or down. You are at the mercy of the coals. So, if you want multiple zones, you need to be savvy enough to create an area on the grill without charcoal that can be used as a second zone. And, if you want to extend your grilling session, you will need to add more charcoal. If you don't, the temperature will start to decrease.
Requires More Clean-up
After grilling with a charcoal grill, you will have more cleanup to do than if you were operating with a gas grill. This is because of all of the charcoal and ashes that will be leftover in the grill. You'll also need to wait for the coals to cool down before you can even start clean-up. In addition, seasonal deep cleans will need to be done more frequently.
Cost of Cooking Fuel
Since you will need to buy charcoal regularly to run your charcoal grill, the overall cost of charcoal will start to add up the more you use it. So, you are going to pay more for cooking fuel than you would with a gas grill. With a gas grill, the cost of fuel will be minimal, with a propane tank able to last for many grilling sessions.
Gas Grills vs. Charcoal Grills: What is Right For You?
When it comes to gas grills vs. charcoal grills, we have laid out the most important details and features that you need to know. It is our hope that this article will help you make your decision as to which type of grill you should choose. Both gas grills and charcoal grills are great products. But, you might not be able to purchase one of each. So, you just need to make sure that whatever you choose, it fits your life, home, family, and style. Don't make a purchase that you will regret or not use. After all, a grill is an expensive product and you don't want to waste your money.
Breakaway: Cape Cod's #1 Gas & Charcoal Grill Superstore
When it comes to grill shopping on Cape Cod, Breakaway is your go-to superstore for the best gas and charcoal grills. We have been serving the towns surrounding our stores since 1985. Whether you are looking for a gas grill or charcoal grill, we have the grill for you. Or, if you need something different, like an electric or pellet grill, we can help you make the right decision for you.
We carry all of the major grill brands out there, including Weber, Napoleon, Big Green Egg, Broil King, Saber, and Green Mountain Pellet Grills. In addition, we sell grill accessories, grill parts, and cooking fuel. Got a patio need? We can help you there too, with our fire pits, outdoor cookers, and patio heaters.