The Gas Fire Pits San Diego Homeowner Buyer's Guide
Different people in different parts of the U.S. have different names for what we call "Fire Pit Tables". Fire Pit Tables can be called just "Fire Pits", or Fire Bowl Tables, Propane Fire Tables, Gas Fire Pits and on and on . . . but for the purposes of this information we will distinguish between the 2 major types of Fire Pits as Gas Fire Bowl Tables and Wood Burning Fire Pits (Also known as Wood Burning Fire Places. I know – Confusing; RIGHT?
When Investing in a Fire Pit San Diego Homeowners Ask
Is it a good investment – Should I get Wood or Gas Burning – Do I have enough room and more . . . .
Some of the more obvious answers as to why San Diego homeowners may want to invest in a Fire Pit, Fire Table or fire feature of some kind are:
[custom_list style="list-7″]
A permanent Fire Pit or Table is an investment because it Increases the value of a home
A Propane Gas Fire Pit Table is far more convenient than a wood burning Fire Pit Table with multi-point ignition systems and control knobs to start your fire, adjust the flame and turn it off, there are no start up problems, no wood burning smoke, uncontrollable flames or messy ash and soot to clean up.
Provides ambiance as a controlled fire the hypnotic flickering flames emote feelings of security, relaxation and sparks a certain amount of romanticism
Warmth on cooler evenings makes a fire table or fire pit a natural gathering place for friends and family
Conducive Weather – Almost year round evening weather just about anywhere in San Diego County is perfect for a fire pit to set the mood for a warm friendly gathering of friends and family or just you and that special someone.
Depending on a number of factors including budget and available space, a fire pit may be preferable to the traditional outdoor fire place
With factory produced models, the design choices can be anywhere from modern to rustic and anywhere in-between
With Custom Built Fire Pit Tables the only real consideration will be size, as everything else is totally up to you
The Cost Factor: In this case, size matters. Smaller factory built Fire Pit Tables will cost you less and larger sizes will cost you more. Basically, besides types of materials, you will pay more for larger fire pit tables because there is more material involved.
The Size Factor: Most factory built Gas Fire Pit Tables you'll find sizes from about 20 inches to 45 inches across. You will need to measure the area where you plan to sit your fire pit making sure there is ample distance from plants or wood fences as well as ample leg room between the seats surrounding the fire pit table and the edge of the fire pit table itself.
Type of Fuel: With custom built Gas Fire Pit Tables you basically have 2 choices when it comes to fuel – Liquid Propane Gas or Natural Gas. LP Gas is the most common because Natural Gas requires some fairly expensive plumbing from your homes natural gas lines to the fire pit, but if you can afford it, you won't have to be messing with LP Gas tanks and getting them refilled.
The cost of  Burning fire wood versus LP Gas (Especially with the prices for firewood in San Diego) works out to LP Gas burning at 78% efficiency compared to firewood burning at about 70% efficiency. All things considered, of the two, LP Gas is the right choice for a  Fire Pit San Diego Homeowners will enjoy for years to come.
Some Factory Built Fire Pits San Diego Homeowners Favor Below:
(Or Shop Our Entire Line of Fire Bowl Tables CLICK HERE)
[one_third]
Click ↓ Pic ↓ Zoom + Details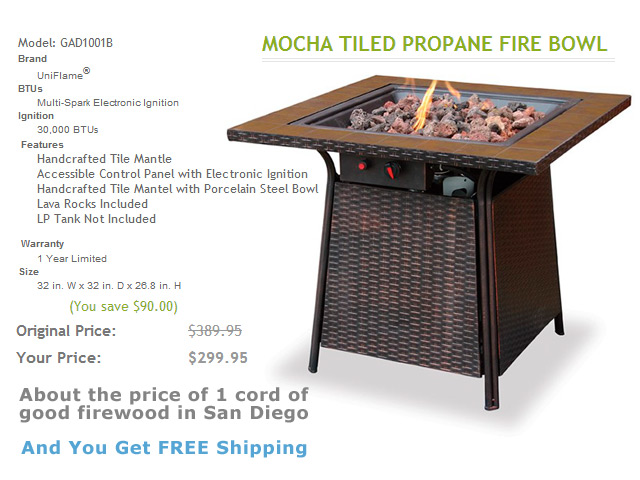 Model: GAD1001B
Manufacture SRP:
$389.95
Your Sale Price:
$299.95
YOU SAVE: $90.00


[/one_third][one_third]
Click ↓ Pic ↓ Zoom + Details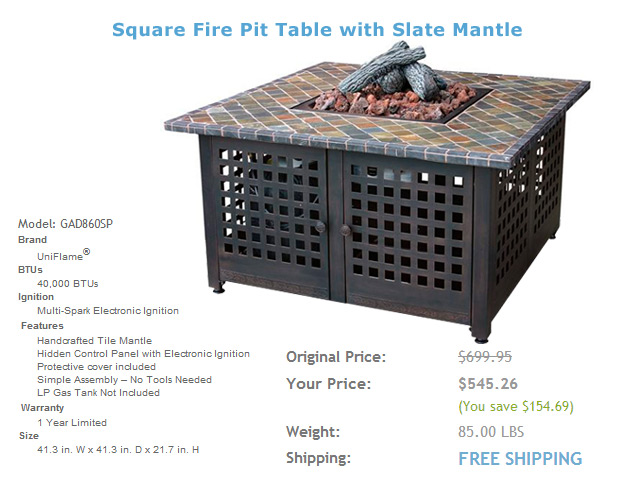 Model: GAD860SP
Manufacture SRP:
$699.95
Your Sale Price:
$545.26
YOU SAVE: $154.69


[/one_third][one_third_last]
Click ↓ Pic ↓ Zoom + Details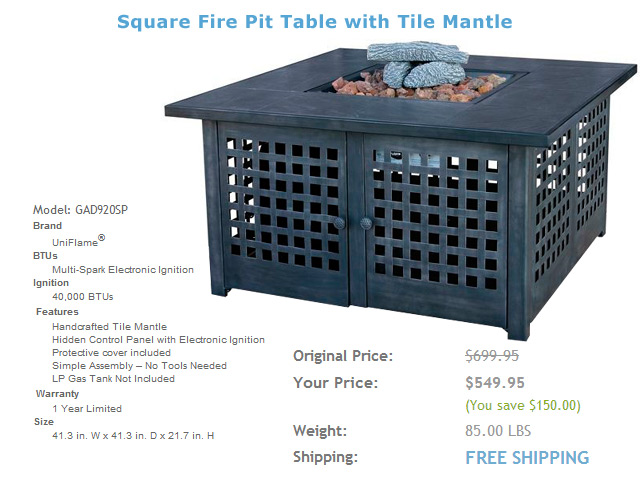 Model: GAD920SP
Manufacture SRP:
$699.95
Your Sale Price:
$549.95
YOU SAVE: $150.00


[/one_third_last]
[one_third]
Click ↓ Pic ↓ Zoom + Details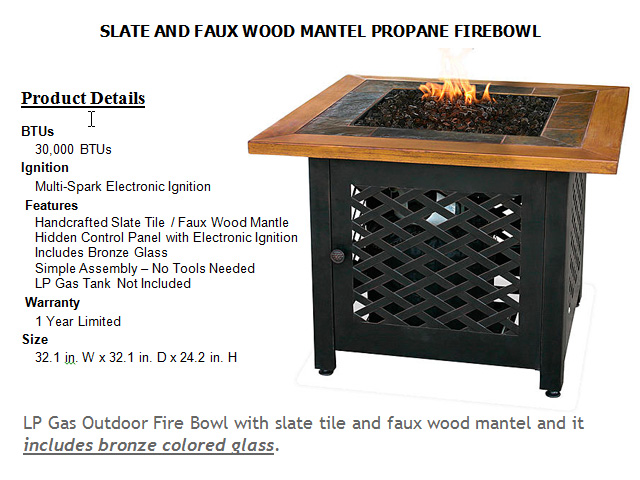 32″ Slate and Faux Wood Mantle Fire Bowl Square Table
Manufacture SRP:
$599.95
Your Sale Price:
$449.95
YOU SAVE: $90.00


[/one_third][one_third]
Click ↓ Pic ↓ Zoom + Details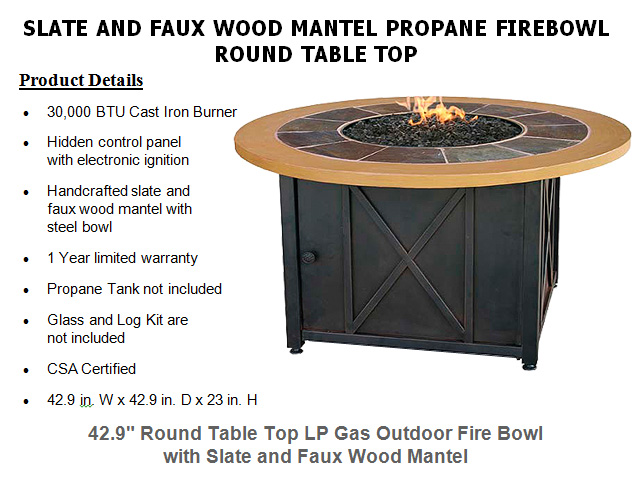 42.9″ Round LP Gas Outdoor Firebowl with Slate and Faux Wood Mantel
Manufacture SRP:
$799.99
Your Sale Price:
$595.00
YOU SAVE: $204.99


[/one_third][one_third_last]
Click ↓ Pic ↓ Zoom + Details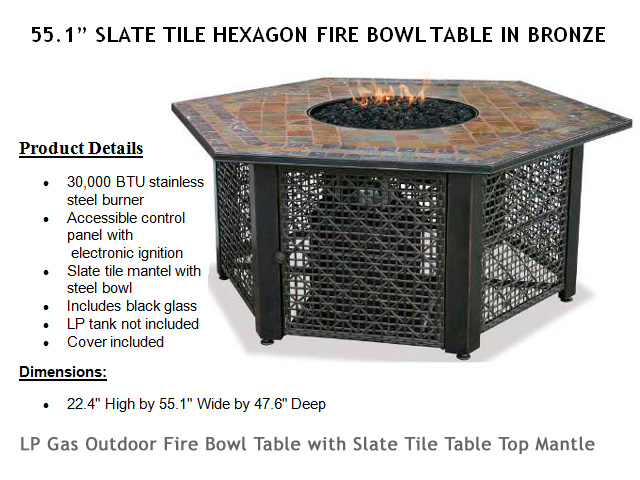 51″ Hexagon Slate LP Gas Outdoor Mantle Fire Bowl Table
Manufacture SRP:
$1022.00
Your Sale Price:
$749.95
YOU SAVE: $272.05


[/one_third_last][one_third]
Click ↓ Pic ↓ Zoom + Details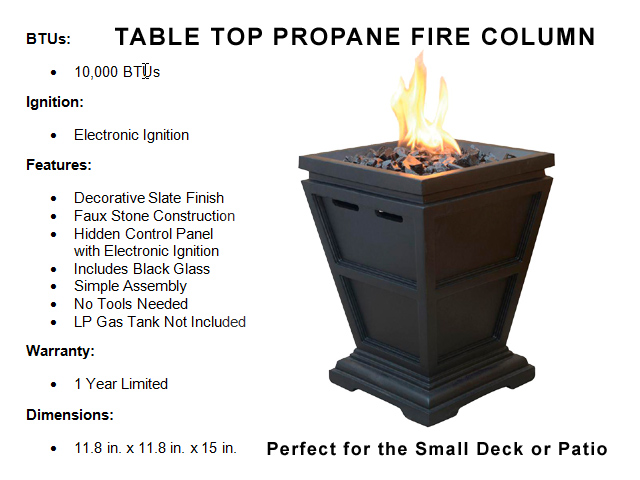 15in. Table Top Slate Finish Fire Bowl
Manufacture SRP:
$149.95
Your Sale Price:
$129.95
YOU SAVE: $20.00


[/one_third][one_third]
Click ↓ Pic ↓ Zoom + Details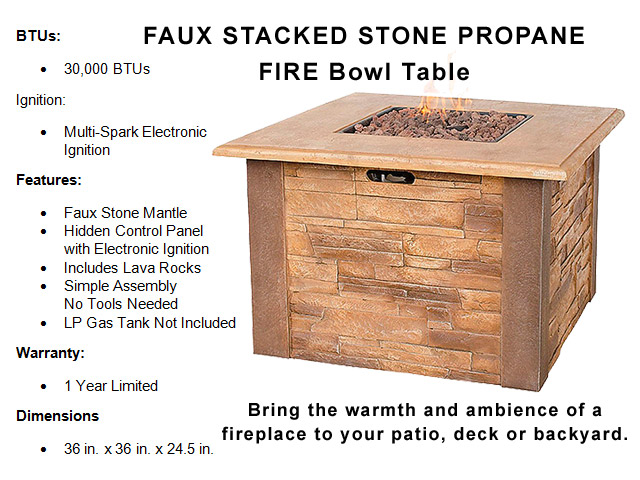 Faux Stacked Stone 36in. Fire Bowl Table
Manufacture SRP:
$599.95
Your Sale Price:
$539.00
YOU SAVE: $60.95


[/one_third][one_third_last]
Click ↓ Pic ↓ Zoom + Details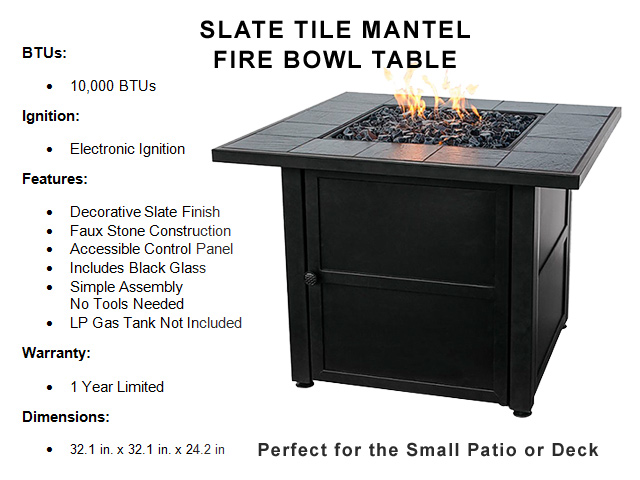 32.1in. Slate Tile Mantle Fire Bowl Table
Manufacture SRP:
$489.95
Your Sale Price:
$367.99
YOU SAVE: $121.96


[/one_third_last]
[message type="info"] While a Factory Built Fire Pit Table San Diego Homeowners do consider, many opt for a Custom Built Fire Pit San Diego Style, where nothing is pre-fabricated.[/message]