The Variety Of Built-In Gas Grills Is Almost Endless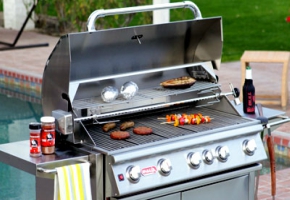 An outdoor kitchen area with built-in gas grills is also available for use by the residents. The most common outdoor built-in gas grills are going to be anywhere from 30-36 inches. Most name brand built-in gas grills are going to be either all stainless steel or mostly stainless steel.
Regardless of location, those durable built-in gas grills will need proper care and maintenance all the same. Built-in gas grills are perfect for outdoor kitchens with grill islands. The built-in gas grills are becoming more famous, common and useful for the users.Built-in gas grills are often quite costly, that's why you should check the specifications and features of each one in order to make the most of the worth of your funds for the grill that you're buying.
;
As the popularity of outdoor kitchens has grown in recent years manufacturers have introduced a manner of outdoor appliances, from wine refrigerators to built-in deep fryers. Chances are you just need a great grill. Don't rush into buying a grill. It's the most important feature of your outdoor kitchen, and a good place to invest a big chunk of your budget. To decide which grill is right for you, keep these considerations in mind.

Gas grills are convenient, they ignite at the push of a button and allow you to control the heat with the turn of a knob, but they're not ideal for true slow-cooked barbecue. Charcoal grills burn hotter than gas grills and you can burn wood in a charcoal grill, to impart a natural, smoky flavor to your foods. But it's harder to control the temperature, you have to stoke the fire constantly, and at the end of cooking you're left with a mess of ashes.So which type to choose? Maybe both: a gas grill for everyday grilling, and a charcoal model for more occasional barbecuing. Or if your budget is ample, look for a grill that offers both options in one unit. Electric grills are another choice, and may be the only option for apartment or condo dwellers, but they don't impart a real barbecue flavor. Check more here.
Fire Magic built-in gas grills are unparalleled by any brand on the market today because of the high-quality materials they are made from.
HOW DOES A GAS GRILL WORK?

Gas grills are built for convenience, simple to fire up, and easy to maintain.

They either have a button start ignition, or a knob that must be turned and pushed inward to activate the grill starter which ignites a spark near the gas outputs. Gas supplied from a propane tank or natural gas hose mixes with oxygen above the grill burners and the spark provides just enough heat to start a flame and power up the grill.

WHY ARE THEY POPULAR? 

Gas grills are the top selling barbecue in America for 5 reasons

Convenience, Gas grills heat up to max temperature in minutes and are easy to clean.
Precise Temperature Control,  You can cook different food items at different temperatures at the same time by adjusting the gas output shifting between heat settings in seconds.
Consistency, Gas grills offer heat predictability, consistent burn and an evenly distributed flame.
Burns Clean, By using natural gas or propane you significantly reduce the levels of carbon monoxide and volatile organic compounds released. See full article here.
Built-In Gas Grills Are Best If You Do A Lot Of  Cooking Outdoors
As the word proposes, built-in gas grills are grills which run on gas and they are literally built in the particular place in the backyard. Built-in gas grills can be bought configured to run on propane, but most are sold as natural gas. Built-in gas grills can be quite expensive, that's why you need to check the specifications and features of each one in order to maximize the value of your money for the grill that you are buying.
Most built-in gas grills are configured to feed on natural gas although they can be converted to be compatible with propane. Built-in gas grills are just some of the outstanding features you will find, you may contact us here: (888) 556-8121. Propane fire pits, outdoor fireplaces, propane pool heaters, tiki torches and built-in gas grills can make your deck, backyard or garden feel like another room in your house!
Related Articles:
BBQ Gas Grills – Propane Or Natural Gas?
Stainless Steel Outdoor Grills You'll Love