Outdoor Fireplaces Are A Beautiful Addition To An Outdoor Living Space In San Diego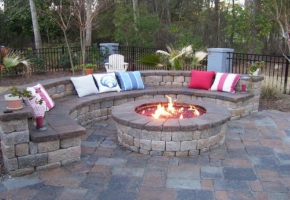 The great thing about outdoor fireplaces is that they are quite flexible. The beauty of their offered pre-made outdoor fireplaces is that they are built using excellent materials. If what you want to create a special atmosphere very cozy a nice unique outdoor fireplaces is the best option.
Something to consider about outdoor fireplaces is the factor of wind. One of the common kinds of outdoor fireplaces is copper.The best time to clean your copper outdoor fireplaces is during the hot summer days of the year when your fireplace is not being used as much.The most popular material for outdoor fireplaces is concrete and other choices are cast iron, aluminum, and steel.
The only thing better than relaxing indoors on a beautiful sunny day is to do all that outside, surrounded by nature. But first you must make your outdoor look and feel inviting, relaxing and pleasant not just for you but also for your guests and anyone who might want to join you.

Make a cozy dining spot.
Food somehow tastes better if you take it outside to enjoy it. So get a table, some chairs and organize a cozy dining spot. It can be in the garden, on the patio on anywhere you think you can get enough privacy as well as some lovely views.

Get a cozy bench and mood lighting.
Make sure everyone can sit comfortably. Build or buy a long bench or maybe even a sectional for your back yard. Add seat cushions and pillows and hang some string lights if you want some mood lighting. A very nice idea would be to also have a fire pit at the center.

Relax!
And in case you forget why you're out there, hang a sign to remind you to always relax and enjoy life. This one says "relax", really suggestive I would say and stays on the fireplace mantel. Check more here.
From warming up a chilly night to providing a relaxing place to enjoy the weekend, there are lots of reasons why adding outdoor fireplaces is a great choice.
Deciding between a fire pit and fireplace is an important decision when creating an outdoor room. Both features extend the enjoyment of an outdoor living area by providing warmth, light, and relaxation. However, they have important differences that should be considered. Answer the questions below to find out which hearth style best suits you and your space.

1. How many people would you like your fire feature to accommodate?

1-4: A fireplace is perfect for just a few people. It provides romantic ambiance and encourages intimate conversation.

5 or more: A fire pit is ideal for entertaining a group. It provides 360 degrees of enjoyment and a campfire like environment.

2. Which best describes the overall mood you are trying to create in your outdoor living space?

Intimate: A fireplace will create a cozy, romantic feeling.

Social: A fire pit will encourage storytelling, laughter and s'more eating. See more here.
Fire pits and outdoor fireplaces are ideal ways to add warmth and ambiance to your outdoor spaces while extending the hours you are able to spend on your patio well into the cold fall evenings.
We went between the idea of fire pit vs fireplace, but in the end a fireplace had the architectural elements that a fire pit didn't offer; the height and the fact that the even when it isn't being used, it still looks great and intentional especially sold us on the idea. I loved the look of a few board-formed concrete fireplaces I had seen, so with inspiration in hand, we built our own in a week for around $1300. Instead of board-formed concrete, which is a pretty intense process, we used James Hardy siding (a non-combustible cement siding) which gave us a really similar look at a budget-friendly price and is more DIY friendly, too.

Today, on Homes.com, we're sharing a detailed step-by-step tutorial of exactly how we made it, with a complete budget breakdown so you can tackle this project yourself! Click here to read how it all went down. To say we have been enjoying our new outdoor space would be the understatement of the year, it's changed everything and we're excited the fireplace will allow us to hang out out here through the fall, too.

Day or night, you can find us out here eating, lounging or chatting. We've had a few questions about the durability of the furnishings out here (sources below). Almost everything is weather-rated except the leather pouf that we bring in, and the dining chairs that are holding up great. We have outdoor furniture covers that I mostly try to get on if I see rain coming, but Idaho is a desert climate so we don't get much rain. It's also a great idea to spray cushions with this outdoor ScotchGuard and if it comes down to it, all the covers are removable and can be thrown in the wash. Read full article here.
Outdoor Fireplaces are Perfect For Your Backyard
The selection of outdoor fireplaces is far greater than most people are aware of. The thing about outdoor fireplaces is that they can pose some safety threats to your property. Outdoor fireplaces are continuing to grow in popularity as a focal point of backyards and patios as outdoor rooms become increasingly common and complex.
The main difference between indoor and outdoor fireplaces is the materials that make up the fireplace and the area surrounding it. Our outdoor fireplaces are great for entertaining and add cutting-edge appeal and value to your home, call us here: (888) 556-8121. Outdoor fireplaces are one of the hottest new concepts in the housing market today that create a fun and functional outdoor space, plus add value to your home.
Related Articles:
Grilling Accessories
What Is a BBQ Chimney Starter?