Stainless Steel Grill Grates in San Diego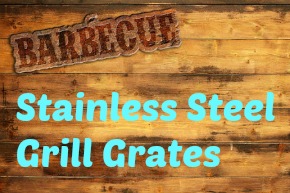 Stainless steel grill grates are super easy to clean and maintain, which makes them perfect for cooks who prefer low maintenance kitchen and backyard tools. The stainless steel grill grates are durable for easy clean up with a wire brush or crumpled aluminum foil. Stainless steel grill grates can last a long time with proper care.
Stainless steel grill grates are an excellent conductor of heat to cook food evenly. The features available in stainless steel grill grates are unique and not there in other types of gas grills. The stainless steel grill grates are easy to use and come ready to be installed.
Cast iron and stainless steel grill grates are options for grill grate materials and weighing the advantages and disadvantages of each will help you to choose the best material for your lifestyle and cooking method.

STAINLESS STEEL

Cooking with stainless steel generally means you might not get the high heat of a cast iron grill but you gain that back with heat retention. Stainless steel is also much more durable and resilient, able to withstand harsher elements like sun, wind, rain and salt. While the stainless steel grates will darken with use, this is considered normal (a simple wipe with a grill brush will remove it if desired) and there's virtually no clean up since the steel needs no oiling. Maintenance is also easier. The cooking surfaces on stainless steel grills tend to be larger than those of cast iron grills but this is for good reason: they need to be able to retain enough heat to effectively sear/cook the food. For those looking for long-lasting, low maintenance, high-performing grills, consider going with stainless steel.

STAINLESS STEEL GRILLS

Will not get as hot as cast iron grills but will hold heat better
Won't corrode or rust (tempered steel and chrome plated grills will)
Easy to clean
Minimal maintenance
Will darken over time but this does not affect cooking or taste
Very durable – will perform for years. Read more here.
Most stainless steel grill grates do not require much preparation before the initial use; however, you should keep them free of grease and debris in between uses to help keep them cooking like new for years to come.The key to cleaning a stainless steel grill is being gentle.
It is important to take the time to clean the stainless steel grill grates on your barbecue to reduce the chance of food poisoning from leftover food particles stuck to the surface. Charred food can also leave residue on anything new you cook, disrupting the flavor that you've worked hard to create. Fortunately, these grates aren't hard to clean and there are steps you can take to minimize the effort you expend in the future.
Step 1 – Clean After Each Use

Remove the food and allow your stainless grill to cool a little after you're done cooking. While it's still hot, briskly rub a good quality wire barbecue brush over the grates to remove stuck food pieces.

Step 2 – Clean Thoroughly Once a Week

If you use your grates regularly, especially during summer, it's important to give it a good cleaning once a week. Wait until your stainless steel grill has completely cooled. Then, mix some mild dishwashing detergent in warm water in a pail. You can do whatever concentration your prefer, but make sure that the mixture is sudsy. See more here.
The stainless steel grill can be mounted onto any balcony or railing or even attached to a wall for smaller gardens, and it it is portable, so can be unhooked and taken to the beach or park for a picnic.
Some advantages of using a stainless steel grate are unaffected flavor, good hygiene, and longevity. A clean stainless steel grate does not affect the flavors of the meat or vegetables placed on it. Stainless steel is also a hygienic material to cook on because it will not absorb unpleasant liquids and smells. In addition, this kind of grate can outlast the appliance it came with because of its great durability. Lastly, some people choose stainless steel grates over other materials because of its dark but shiny aesthetic appearance.

This kind of grate will not transfer flavors to the food cooked on it, no matter what the temperature used. The exception to this rule is a dirty stainless steel grate, in which case the built up grime will likely alter the food's flavor. If food is not allowed to build up for more than one use, it is usually easy to remove. Some people remove food residue by heating the grill to a high temperature, letting it cool, and then brushing off the ashes. Read full article here.
Stainless Steel Grill Grates must have proper care
Consistent upkeep of your stainless steel grill is a necessity to keep it looking its best. Your stainless steel grill is a durable piece of equipment and can last for years if proper care is taken on a regular basis.  With a little attention and elbow grease, your stainless steel grill will look gorgeous and eye-catching in its place on your patio for years to come.
If you need more information  about the stainless steel grill quality . To maintain a healthy grill for cooking requires a good deep cleaning of all components at least once a year or more if grilling is a weekly lifestyle.  BBQ Island San Diego are perfect for people who want a simple grilling experience with no messy clean- up. Call us now: (888) 556-8121.
Related Articles: