A BBQ Etiquette Is Important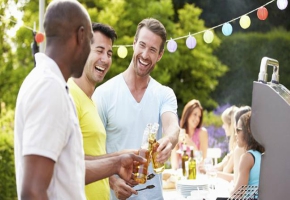 Barbecue etiquette is easy enough to remember and can help guide us all. A summer barbecue is one of life's simple pleasures; it is one of the most relaxed functions you can attend. It provides a great excuse to get family and friends together.
In addition to showcasing your fresh, Barbecue Etiquette, seasonal food, it allows us to enjoy the great outdoors, soak up the sun and try out all of our new summer drink recipes. And there is something about barbecuing that makes everything taste better.If barbeque etiquette sounds like an oxymoron, it isn't, there are indeed rules for properly conducting yourself as a host and as a guest.
Here's a quick checklist of things you should run through before you light the first fire of the year!

1. Safety First: Check the Hose

Here's the thing that some people forget about grills: they are filled with fire. Considering yours may have been sitting for many months without being used, take a few minutes to give it a once over before you press ignite. Specifically, if you have a gas grill, check the hose from your propane to your burners and make sure it's intact and clean. If there's any build-up on the hose, be sure to clean it off before starting your grill. (Hoses can light on fire. Trust me, I know.)

2. Time for a Quick Cleaning

I'm not the best at cleaning my grill, but I do always take the time to clean it once after winter. If you have a gas grill, take the grates out and give everything a good scrub down.  You can use a wire brush and a damp cloth to get the job done. I don't recommend soap. It can linger and it's tough to wash off.

3. It's a Trap! Clean Out Your Grease Trap

Remember the grease trap under your grill? Yeh… me neither. Before the grilling season starts though, be sure to pull it out and dump out any grossness from last year. For easy clean-up next year, line your grease trap with some sturdy aluminum foil. See more here.
If you are the host, Invitations an afternoon barbecue is not as formal as a wedding or sit-down dinner. When crafting your guest list and invitation, write it to reflect that it is a casualevent.
It is also the time to revisit your barbecue etiquette.

For the hosts:

Be prepared. That means making sure you have enough of everything from charcoal or propane to food and beverages And don't forget the cups, plates and napkins. Grandma's china and crystal are not appropriate substitutes when you run out of serving items.
Have a rain plan. While rain should be forbidden during outdoor events, it will occasionally show up.  Either arrange for tents or know how you will handle an indoor picnic.
Provide all the food and beverage.  Unless you are hosting a family reunion or the traditional neighborhood party, don't ask people to bring things.
Have plenty of bug spray and insect repellent.  Your guests should be the ones eating, not being eaten. If you live in a "buggy" environment, it is a good idea to have food domes on hand, not only to keep certain foods warm, but to keep flying pests out of your culinary delights.

For the guests:

1.       Keep your grilling advice to yourself.  Your host is in charge of the grill. You may have what you consider is a better way of doing of things, but unless you see that the host is about to set the place on fire, keep your mouth shut. Open it only for conversation and food.
2.       Leave your legendary potato salad at home.  Unless you are asked to bring a dish, don't.  It would be an insult to your host. Check more here.
Just because these festive events are generally held outdoors and are casual in nature does not mean anything goes and there are rules to observe.
It's BBQ season and, girl, are we hungry. Getting invited to a cookout might be one of the top five joys of summer, so being a gracious guest is a must. You don't want to be the person people whisper or clutch their pearls about. Here are the do's and don'ts of BBQ etiquette.

DO BRING SOMETHING

You know how people say, "Oh no, you don't have to bring anything. Your presence is enough!" They're lying. They just want to see if you were raised properly. You don't have to go all out and bring a dish (unless you ran that idea by the host first); grab a bottle of wine or dessert from the store instead. It shows that you care enough to not only want the free food.

DON'T BE TOO BOUGIE

I'm looking at you, women who wear heels to the cookout. Question: why do you do this? There is nothing more off-putting than seeing a chick in the highest of heels teeter-totter and poke holes in the grass because they were more concerned with trying to get chose than having a good time. Look, boo, showing that you can be playful at a place where it counts, such as a BBQ, is more important than looking uncomfortable with a big ass bag by your side while you're struggling cutting up your ribs with a knife and fork. Some things just don't mix. Read full article here.
A BBQ Etiquette Is A Must!
In recent years, barbeques have grown in popularity as an easy, fun, and delicious way of getting people together. They have also spilled over into the professional world and have become an informal setting for colleagues get together outside of the office. Office barbecues etiquette can be a great place to get to know your colleagues, and perhaps even your superiors, on a more personal level, given the informal and relaxed setting.
Although the term "barbecue" holds many connotations (such as informal, fun, relaxed, and beer), there is still some barbecue etiquette to abide by, especially when the barbecue in question is one filled with colleagues and/or superiors. Many of the same rules in effect at a holiday cocktail party still hold true at an informal barbecue. Barbecues take place outdoors and begin much earlier in the day, call us here: (888) 556-8121 for more tips for barbecue etiquette.
Related Articles:
Grill Islands – The Next Generation Of Outdoor Barbecuing
Tips For Creating An Outdoor Kitchen Island