The Best Pellet Grill Is The One That Best Fits Your Needs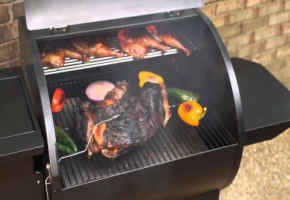 Pellet grill is also a great option if you're looking for the dependable US made a grill. Pellet grill is a cooker that combines elements of smokers, charcoal grills, gas grills and convection ovens. A pellet grill is more like an oven that adds that grilled smoky flavor to your food.
This pellet grill is guaranteed to take your cooking game to a whole new level. Pellet grill is one of the most trusted pellet smoker grill available in the market, and you can pick this one if you are looking for a large wood-pellet grill. The two most important features of a pellet grill are its construction and controller.Perfect for outdoor kitchens, a pellet grill is the quintessential country smoker because of its versatile enough to handle any and all grilling recipes.
You fuel it with cylindrical food-grade wood pellets—each about an inch long and 1/4-inch wide—composed of compressed hardwood sawdust. The sawdust is subjected to high pressure and heat, which activates lignin—a natural glue in wood. With the exception of vegetable oils to aid the extrusion process or carry flavor, the pellets contain no additives. They burn cleanly, leaving remarkably little ash.

Pellet grills run on standard household electrical current. When you plug the grill in and turn on the digital controller, a rotating auger delivers pellets from the hopper to a cylindrical fire pot housing an igniter rod. The rod glows red hot for several minutes, igniting the pellets. Heat and smoke from the combusting pellets are diffused by a continuously-running blower fan as well as metal plates under the grill grate. One model, the upscale Memphis Wood Fire Grill, lets you both smoke and direct grill over a wood pellet fire.

As recently as 2008, only two companies manufactured pellet grills (Traeger and its rival, MAK, also based in Oregon). But the expiration of Traeger's original patents opened the floodgates to competitors. Today, pellet grills have entered the mainstream: more than 20 brands of pellet grills are available in North America. Read more here.
The whole reason to buy a pellet grill is that it is set-it-forget-it and it hits a temp and holds it regardless of the ambient air temp outside, winter or summer.
Backyard grilling has always been a big American pastime, but in recent years this has been joined by an explosion of interest in slow smoked barbecue, the traditional Southern or Texan style of cooking meats slowly at low temperatures with indirect heat and plenty of smoky flavor. This has led to a boom in smoker sales, but for most people that means a second unit, and usually a big one, since many smokers are of the offset variety and require a lot of space.

The problem of multiple grills is confounded, because when most people say they are having a "barbecue" they really mean grilling, or cooking over flame, the most common form of backyard cookery. Most of us use our smokers for a limited number of specific slow cooked BBQ specialties such as ribs, brisket and pork shoulder, but grills do everything from a single steak to hamburgers for a crowd, hot dogs, chicken, pork chops, vegetables, seafood and so on and soon.

Some smokers, especially vertical ones, can double as wood or charcoal burning kettle-style grills, but this is not typically a solution for the frequent griller, and in summer, or year round in warm weather climates like Arizona, lots of people cook out several nights each week. See more here.
If you've never made your own jerky because you just don't feel comfortable leaving your oven on at a lower temperature overnight, then the pellet grill is the perfect option for you.
Their behavior is sometimes counterintuitive. The hotter they get, the less smoke they produce, and at their top settings, they don't produce much smoke at all. This is good for when you are baking cakes or pies or doing dishes that don't need smoke. But down under 250°F, they produce plenty of mild, elegant smoke. And even though the fuel is wood, it is hard to oversmoke with a pellet smoker. Burning wood on a charcoal grill produces much more intense smoke flavor.

The searing issueManufacturers advertise that these are both smokers and grills, but it is best to think of these devices as superb indirect heat convection smokers, not grills. Most just don't do as good a job of searing a steak as a charcoal grill or even a gas grill with a sear burner. I can sear steaks better on a $20 hibachi than on most pellet smokers.How they work

Central to all pellet cookers is a digital controller similar to the controllers on modern indoor ovens

. You select a temp you want, and there is an LED display that tells you the actual temp. Some of the controllers also are programmable so you can cook at a certain temp for a determined time. Some have leave-in meat probes that can dial back the ovento a holding temp when the meat hits its mark. Check full article here.
A Good Pellet Grill Will Grill, Roast, And Smoke
The controls on this wood pellet grill are simple enough, although it's more like selecting the individual settings rather than a finely variable control. Pellet grill can sear a steak while also being able to hold temperatures down to 180 degrees F. Another factor to consider, which ties in with its grilling and smoking capabilities alike, is the fact that a pellet grill can heat up evenly much quicker than a charcoal one, shortening the time it takes to start preparing meals on it.
If you want to focus on slow cooking with indirect heat or want to use your grill more like an oven but with the added benefit of wood smoked flavor, then a pellet grill is a great way to go. A good pellet grill can hit high temperatures for that perfect steak and still hold a steady low and slow temperature for great barbecue, call us here: (888) 556-8121. Your pellet grill can be used to cook just about any protein, vegetables, and fruits you can think of!
Related Articles:
Don't Get Burned: Advice For First Time Grill Buyers
How To Choose The Right BBQ Grill For Your Garden