An Outdoor Kitchen Islands In San Diego!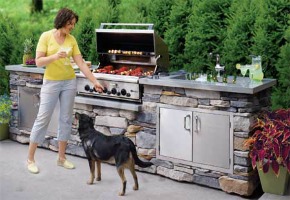 One of the more popular types of outdoor kitchen islands is the type that includes a grill and these are called grill islands. Our outdoor kitchen islands are available in a variety of sizes, colors, shapes, and paper options.  Outdoor kitchen islands are a convenient way to increase your work area and store all of your outdoor cooking essentials.
Outdoor kitchen islands are completely customizable and Outdoor kitchen islands are the best way to cook and entertain outdoors. outdoor kitchen islands are a fantastic addition to your masonry, stone, brick hardscape, landscape, stone shape and home improvement.  Outdoor kitchen islands are a money-saving option.An outdoor kitchen islands that are equipped with popular components used in large, custom-designed outdoor kitchens.
Zero in On the Type That's Right

Movable A smart choice for small spaces that multitask—as cookout central one day and a garden hub the next. Start with a portable charcoal or gas grill fitted with heavy cast-iron or stainless-steel grates and an easy-to-clean grease trap. For storage and counter space, add a rolling cart with shelves. To avoid serving burgers tartare, buy a clip-on grill light.

Prefab An all-in-one option for folks with more square footage and cash to spend. The basic setup (shown) typically includes a stucco-clad 5-foot island with tile counter, drop-in gas grill, and access doors for a propane tank. Extras, including granite counters, a refrigerator, and LED lighting, are ordered a la carte. DIYers can get cooking with a prefab island on delivery day.

Custom A built-in-place kitchen, whether crafted by a pro or a handy homeowner, offers integrated appliances, storage, and counter space, as well as the most flexibility in terms of matching the kitchen's materials and style to its surroundings. A larger layout, extensive lighting, in-ground utilities, and a pergola-style roof add convenience but also raise the price. Read more here.
Outdoor kitchen islands are the practical choice in building the perfect outdoor kitchen possible and are easy to install and as durable as the grills.
While creating a complete outdoor cooking space can be expensive, you can still put together a great outdoor kitchen without spending a fortune.  Giant fireplaces flanked by leather chairs, 35-foot counters, mosquito misters and outdoor air-cooling systems that rival the chilliest movie theater: Mike Logan 's clients have included "everything under the sun" in their upscale outdoor kitchen designs.

"You can get as basic as you want as long as you follow a few rules as you try to save money," says Mike, owner of Texas Pit Crafters in Tomball, Texas. "First, never build an outdoor island from combustible materials, including plywood countertops covered with tile. Second, when you're laying out your design, factor in some usable counter space no matter how small your outdoor space will be.

PICK PROPANE
"Running gas lines, electricity and water to an outdoor island is fairly expensive," says Mike. "If you're on a tight budget, you might want to consider using propane bottles to fuel your grill."
BUY A HARDY GRILL
It's counterintuitive, but you have a better chance of sticking to a budget if you sink money into a high-quality grill. "I can't tell you how many times customers end up calling us back a year later to replace a low-quality grill," says Burt Stavinoha of Kooda Exteriors, an outdoor kitchen retailer and contractor in Garland, Texas. "They're going to burn out on you." See more here.
Outdoor kitchen islands are custom made from stone and built on site for permanence and are jam-packed with features from built-in grills and ovens to side burners and refrigerators.
With all the options available out there, you should have no trouble creating a one-of-a-kind DIY grill island that'll make you the envy of the neighborhood — and the hottest dinner ticket in town.

1. The Stone Island
Use cast-concrete blocks and a stone countertop to create your own outdoor kitchen. Plans for a DIY outdoor kitchen can be found online, but this set of instructions clearly displays the steps and should make the process easier. This one is a moderate job that should take about a few days and set you back about $1,000 (not including the grill and other fixtures), depending on which type of stone you select. A quick internet search should help you locate a local raw materials supplier. A local contractor or builder will be able to point you in the right direction, as well. Motivate your friends to help out with the build by using the promise of a celebratory steak dinner once the job is finished.

2. The Grill and Smoker
If one grill is good, then two must be awesome. Using these basic instructions and altering to allow for the installation of your favorite smoker, this island can hold both a grill and smoker station for the true barbecue enthusiast. Surrounding the grill and smoker with brick gives your island a solid look that will last through any weather. You can use the same brick and mortar laying instructions from the Stone Island example above.

3. The Communal Grill Top
Instead of being separated from guests while you're grilling, make the chore part of the fun. A built-in tabletop grill allows every guest to cook their own meal while enjoying each other's company. If your company has a lot of dietary restrictions, this grill gives everyone the option to make their food just how they like it. Use a round picnic table as the base and cut out space for the charcoal grill to sit. Read full article here.
Outdoor Kitchen Islands Have Become The Hottest Backyard Entertaining!
Outdoor kitchen islands are increasingly popular because they offer a fun and practical way to entertain family and guests. Kitchen Islands and outdoor Kitchen Islands are the perfect examples of how to build a good and well balanced. Custom Outdoor Kitchen Islands can be used for all your outdoor cooking and entertaining needs. These outdoor kitchen islands can be complete all inclusive kitchens with a grill, fridge, sink and a bar top, a wet bar with a sink and fridge, or anything else you can imagine.
Outdoor kitchen islands have become centers of entertainment with the many features you can add to your outdoor kitchen islands as well as significant components of a great outdoor kitchen. Hiring BBQ Island In San Diego is the best strategy to make sure that your job will be successfully and professionally accomplished within the financial budget you have allowed.  BBQ Island In San Diego is here to assist you with your personal and industrial outdoor kitchen island needs. For excellent service, reasonable prices, and informed guidance, we at BBQ Island In San Diego is the outdoor kitchen island pro to call: (888) 556-8121.
Related Articles:
The Benefits of Using Granite Counters in Your Outdoor Kitchen