An Outdoor Kitchen Phenomenon In San Diego!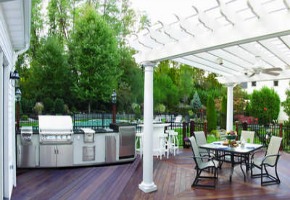 Outdoor kitchen phenomenon is a great way to take grilling to the next level. Good planning will help ensure that your outdoor kitchen is in the right location for your yard. A kitchen outdoors or BBQ Island is like an indoor kitchen and should be designed with many of the same considerations. An outdoor kitchen can become the centerpiece of your warm weather entertaining.
Outdoor kitchen phenomenon kitchen is the most popular room in the house. Very often the kitchen outdoors is located near wet surfaces like swimming pools and spa tubs. The basic appliances of the traditional kitchen outdoors or BBQ Island are the wood-fired oven, the barbecue, and the fireplace. An outdoor kitchen can also be a real plus for a small home. A few more things to remember when building a kitchen outdoors or BBQ Island are the style of outdoor cooking you are intending on doing, the amount of yard space you have and your budget.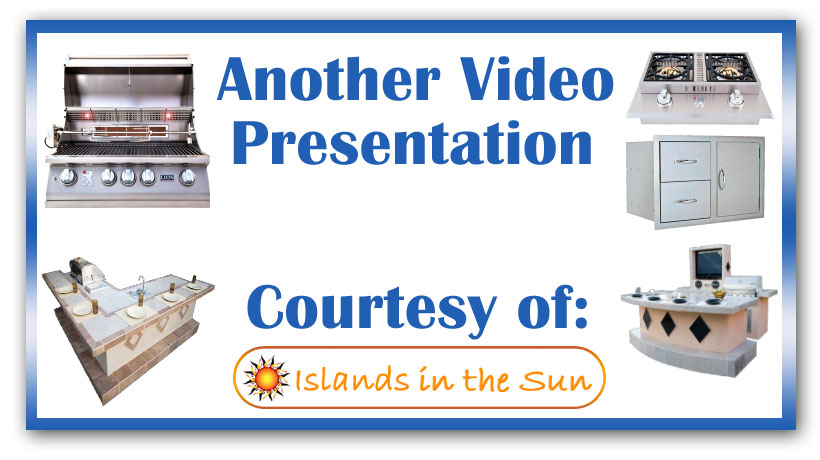 Cooking outdoors involves more than just a barbecue these days. Backyard grills have become alfresco kitchens. The humble hibachi is now the size of a Humvee—complete with rotisseries, infrared gas burners and warming drawers, not to mention interior halogen lights that actually let you see what you're barbecuing. Add sinks and garbage disposals, ice chests and beverage dispensers and you have a kitchen outdoors or BBQ Island to rival the indoor version.

"Nearly everything in the inside kitchen has migrated outside," says Dacor assistant president of marketing Larry Lamkins. "Just as the interior kitchen has been incorporated into the living room, we're seeing the outdoor environment incorporated as well. There's a blending of spaces."

For Viking vice president of public affairs Dale Persons, the kitchen outdoors or BBQ Island is another extension of the cocooning phenomenon: "Since 9/11 there's a 'Let's go out to the backyard and smell the roses' attitude. Also, people want quality and performance in appliances whether they're inside or out." Read more here.
The benefits of a kitchen outdoors or BBQ Island are many, ranging from escaping the heat in the kitchen on hot, humid days to hosting fun parties outdoors.
I think they're looking for a general sense of relaxation in their yard. When they get home from work, they tend to be stressed out, and they want to kick their shoes off, throw on some flip-flops, head to their backyard resort, and forget about things for a while," said the owner of Pioneer Landscapes in Easthampton, explaining why outdoor kitchens and living spaces are becoming more popular, and elaborate, in the Northeast.

"Some people are doing it because they want to entertain," he added. "Some do pool installs and include an overhang [off the house] and fireplaces … a whole backyard development," he went on. "They're looking for a resort lifestyle, where they don't have to go anywhere except their own backyard to get that feeling. It's pretty nice."

Kitchens outdoors or BBQ Islands — which can include anything from a simple built-in grill to expansive cooking surfaces, refrigeration, plumbing, audio-visual hookups, and more — are at or near the top of most lists of hot landscaping trends, along with firepits, water features, and architectural lighting, even in a region where people don't want to spend much time outside for several months a year, the current mild winter notwithstanding. See more here.
Even the coziest kitchen outdoors or BBQ Island can create big impact outside just keep your mind (and your budget) focused on the essentials as well as the features and functions you'll use the most.
When it comes to outdoor living, gone are the days of the boring 8×10 foot concrete patio. In fact, kitchen outdoors or BBQ Island are now consistently one of the top 3 requests from homeowners. So it's no wonder that manufacturers of quality products now offer complete kitchen outdoors or BBQ Island concepts including grills, warming drawers, sinks, refrigeration, Kegorators, etc.

Many customers regret not including refrigeration and cleaning zones, as well as serving or libation zones as they enjoy their outdoor space.

These are the top components to consider if you are planning an outdoor living space:

• Outdoor grill

• Refrigeration

• Power burner

• Warming drawers. Check full article here.
Outdoor Kitchen Phenomenon Can Be As Customized As You Like
An outdoor kitchen/BBQ-Island can be as simple as a grill, table, and chairs, or as elaborate as a fully outfitted kitchen complete with built-in appliances and seating. The variety of accessories available for your kitchen outdoors or BBQ Island is endless. Most kitchen outdoors or BBQ Island phenomena have some level of counter space for food prep and dining, as well as an area for a built-in refrigerator.
The benefits of having a kitchen outdoors or BBQ Island phenomenon are tremendous. From grilling to pizza ovens and more, a luxurious kitchen outdoors or BBQ Island can transform your backyard into a cook's paradise. Learn how an outdoor kitchen can enhance time spent with your family, entertaining friends, and enjoying your outdoor living area, contact us here: (888) 556-8121.
Related Articles:
BBQ Wok, Perfect Ideas for Outdoor Cooking
Flavorizer Bars – Replace 'Em Or Keep 'Em?