How To Design Your BBQ Island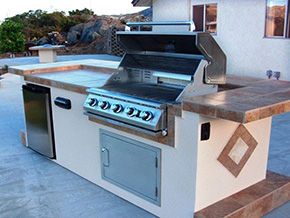 The BBQ Island can be designed to be a beautiful work of art in your backyard and can include such elements as beautiful mosaics in the tile walls, granite counter tops, umbrella sleeves, bamboo pergola, reflective glass inlays, travertine diamond set tile and even slab granite of many color choices. Getting the required utilities for the BBQ Island can be a little more expensive, but very useful.
Have you considered how a BBQ island can transform your outdoor space into a fully furnished outdoor kitchen quickly and easily? Whether you're dreaming of an outdoor kitchen, or you've already got plans to build one, BBQ Island is the ultimate one stop destination for all your outdoor kitchen needs. 
Maximize your backyard year-round with an outdoor kitchen.

An outdoor kitchen expands your living space and allows you to cook, eat and entertain without having to book a reservation. Summer is the time for backyard BBQ's and grilling; but a well designed outdoor kitchen should allow you to enjoy cooking outside beyond the summer months. Incorporating interior kitchen ideas to your outdoor setting is a great way to add versatility, value and fun to your home.

The best outdoor kitchens are as functional as an indoor kitchen, as welcoming as a living room, and as entertaining as a family room. An outdoor kitchen can be as simple as a grill, table and chairs, or as elaborate as a fully outfitted kitchen complete with built-in appliances and seating. Although a simple and straightforward outdoor kitchen can be set up by a homeowner, designing a generous and powerful outdoor kitchen is best left to a professional like a concrete contractor, patio contractor or landscape designer. With so many different types of outdoor kitchens, designing the best kitchen for your family takes time to plan and may require permitting from the city. Regardless of whether you hire a pro or not, here are some expert tips to get your outdoor kitchen planning started.

1.  Start from the ground up

Establishing the floor layout and material of your outdoor kitchen is key to building the foundation of your space. Be conscious of different weather climates that may occur as well as the overall weight of the appliances you are installing. Flooring such as tile or marble will be slick and slippery when wet and may not hold up to grease or food stains. If your outdoor space is on a deck consider re-staining or painting it to match the new renovations and ensure that the deck is in top condition. (See tips on staining your deck to ensure lasting quality.) Proper flooring will not only complete the overall look, but add durability and value to the end product. Take into consideration the types of entertaining you will be doing in your outdoor kitchen. Will there be small children running around? Older guests who need smooth surfaces? The floor of your outdoor kitchen is not an element to be forgotten. Pro tip: When building a project of this scale, keep in mind safety first. Very often the outdoor kitchen is located near wet surfaces like swimming pools and spa tubs. Choose materials that meet safety criteria, stay away from flooring that may be too slick or rugged, and select a material that can endure food spills and grease.

2. Location, location, location

Where you decide to place your outdoor kitchen depends upon several factors. Firstly, you'll want to make sure that smoke from the grill doesn't waft back into the home. So have a good idea of the general wind pattern in your yard and orient the grill appropriately. Secondly, if you frequently entertain, and don't want to travel a long distance from the indoor kitchen to the outside, consider placing your grill and outdoor kitchen relatively near the entrance to the inside kitchen. Remember that outdoor cooking and entertaining frequently means carrying heavy platters from one place to another. Thirdly, if you want to maintain the view you currently have from inside the house to the outside, you'll want to place the outdoor kitchen to the side or at an angle so that the view isn't blocked. Lastly, consider the overall traffic flow of your yard and the safety of your family. A hot, outdoor grill shouldn't be located right next to the area where the Frisbee is thrown around, or near where you ride bikes or play. Just like an indoor kitchen, the outdoor kitchen is full of hazards so place it accordingly. Good planning will help ensure that your outdoor kitchen is in the right location for your yard. Pro tip: If you are considering doing a lot of landscaping changes to your yard such as adding retaining walls or a swimming pool, include the outdoor kitchen as part of the overall design. A professional outdoor kitchen designer will not only design the right kitchen for you, they can offer valuable advice about the ideal location of the kitchen and how it will work with the other elements of the yard.

3. Your appliances will determine the kitchen size

The first question a professional outdoor kitchen designer will ask is what size appliances will you need and how many. A homeowner may want utilize several cooking and refrigeration appliances, and may have specific entertaining needs in mind. Consider how all of these appliances will fit within the design plan, how much room to allow for each, and how they will work with each other. Leave enough space on either side of the grill to accommodate platters and tools, and don't place appliances too close together. The same working triangle used in the kitchen should be applied to the outdoor kitchen as well, especially if you plan on hiring caterers or have more than one cook. Having various counter heights and work surfaces can allow for different functions within the outdoor kitchen. Traditional 36" high counters are prefect for standing pre work and cooking, 30" high surfaces are ideal for sitting and eating, and 42" high bar tables are great for standing or resting food and beverages. Combining all three heights into your outdoor kitchen design will really allow this space to be both functional and flexible. Pro tip: The ideal working triangle places the sink, cooktop and food storage (like the refrigerator) in a triangle setting. Keep the legs of the triangle no less than 4 feet and no longer than 9 feet. A good rule of thumb for distances around appliances is 36" for every person in the kitchen. Read more full story here…

This stylish BBQ Island is not only stunning, but comes standard with a 4 burner grill, stainless steel refrigerator, side burner, and access doors. Your BBQ Island can provide all you need to create a delightful dinner without making trips to your indoor kitchen.